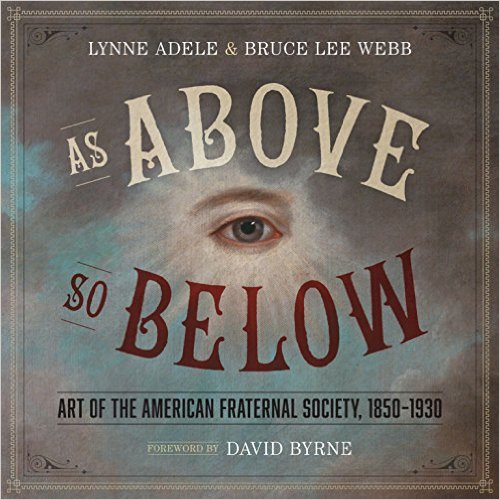 Odd Fellows. Independent Order of Odd Fellows. Surely you've seen that term on signage all your life. And I know that you wondered. You sooo wondered. What makes these fellows odd? And why are they proclaiming it so publicly? Why are they organizing like this? Exactly how odd are they? Would they find me odd?
If your musing about this mystery ever made you feel discombobulated, know that even a person as perceptive and accomplished as musician and artist David Byrne has also pondered this oddity. He says so in the foreword to the new book As Above So Below: Art of the American Fraternal Society, 1850-1930 by Lynne Adele and Bruce Lee Webb. Byrne describes the world inhabited by the Masons, the Odd Fellows, the Knights of Pythias and numerous other fraternal organizations as "an other America," a place where secret societies flourished (and flourish still), reveling in pageantry and ritual performance imbued with "an inspiring and wacky solemnity."
I've looked forward to this book because Lynne Adele compiled one of my all-time favorite exhibition catalogs, Spirited Journeys: Self-Taught Texas Artists of the Twentieth Century, and Bruce Lee Webb co-founded the Webb Gallery in Waxahachie with Julie Webb. Tracking the development of his own interest in fraternal art, Bruce Lee deploys references as diverse as the 1960s album Psychedelic Sounds of the 13th Floor Elevators to the Masonic commentary of essayist Thomas de Quincey, best-known for his 1821 book, Confessions of an English Opium Eater. And I've had an eye-opening peep at the collection of fraternal art, artifacts, costumes, imagery and regalia at the Webb's building that Bruce Lee has been amassing and interpreting for over 25 years.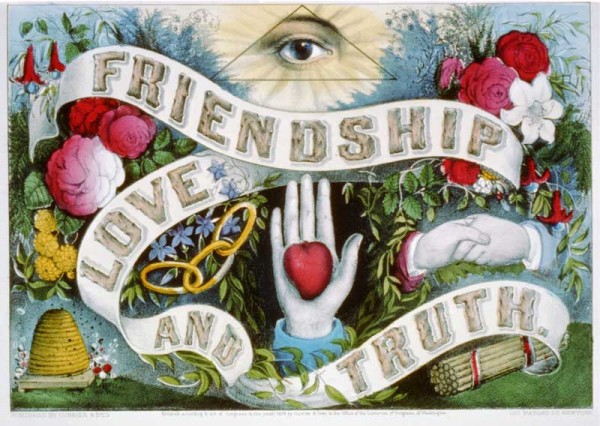 The grand volume they've produced covers all that and more. Readers are introduced to the genesis and history of the Freemasons and other brotherly (and in some cases sisterly) lodges and organizations. We learn they are largely devoted to good fellowship, an endless quest for self-improvement and realization, active concern for folks in need, and an urgent yet sustained zeal to maximize our short time on earth.
And they did it with disarming creativity and gusto in the "'golden age' of American fraternalism," which the authors identify as 1850 to 1930. Degrees of initiation in the societies were accomplished through study and action and were awarded in elaborate, formal rituals that often involved exotic costumes. Symbolism and iconography included the ubiquitous all-seeing eye of Deity (depicted on the book's cover, from a detail of an 1884 painting by Susan C. Waters), the heart-in-hand motif, hourglasses, scythes, beehives, anchors, skulls and crossbones, coffins, and the sun and moon.
The symbols were arrayed in paintings and on banners, apparel, artifacts, and other ritual gear. Photographs in the book of fraternal lodge buildings where the secret signs, grips, and passwords were shared indicate a "Victorian Gilded Age aesthetic" that utilized "Oriental, Egyptian, Moorish, Greek, Renaissance, and Norman themes." A 1910 Murat Shrine Temple in Indianapolis includes Islamic elements. Musician and Detroit native Jack White recently paid $142,000 in back taxes to save the massive 1922 Gothic Revival New Masonic Temple in his hometown.
Another favorite factoid goes out to all who harbor the snarky view that those who labor to produce food from the good earth share uniformly unprogressive values. In 1885, the Order of the Patrons of Husbandry, a "Secret Society of Agriculturists" that accepted women into its ranks with full membership, officially proclaimed its support for equality of the sexes and universal female suffrage.
I also learned a lot from the book about the development and processes of Chromolithography, Tramp Art, Trench Art, Magic Lantern projections (a forerunner of slide imagery), and other antique art forms and technologies.
One chapter addresses an esoteric tradition known as Riding the Goat, which reveals that Masons had a sense of humor about the outside world's perception of their secretive goings-on. "From its early beginnings as a source of derision from antifraternal critics speculating about the nature of secret rituals," the authors write, "the goat became embedded in an imaginative public concept of fraternal initiation ceremonies as early as the 1840s, and was subsequently co-opted by a number of societies as part of burlesque rituals for 'side' or 'fun' degrees." Fraternal supply companies began manufacturing several versions of goat torsos and heads built onto a wheeled apparatus that could be propelled forward. One model, the "Fuzzy Wonder," offered a ride full of "galloping, rearing, wobbling, kicking, and bucking antics." By 1900, the authors note, "riding the goat" had become synonymous with initiation into a secret society.
A chapter on monumental expressions of fraternalism focuses on the Free and Accepted Masons Lodge in Mendocino, California, which is topped by the symbolic figures of Father Time and the Maiden, carved from the trunk of a single redwood tree, and Samuel P. Dinsmoor's Garden of Eden, a visionary folk art environment in Lucas, Kansas. The garden includes some 150 cement statues and 29 cement trees, replete with Masonic symbology. After Dinsmoor's death in 1932, a Masonic funeral was held at the site, and the artist was entombed in a concrete coffin, equipped with a window where visitors can see his "desiccated remains."
The longest chapter in the book surveys smaller vernacular expressions of fraternity—unique, one-of-a-kind items adorned with Masonic, Odd Fellow, and other iconography. An 1858 longrifle in the book features "thirty-five Masonic symbols created in brass, nickel silver, and pewter inlaid on the gun's curly maple stock." Adele and Webb point out that such decorated rifles constituted "an important American folk art form… one of the most significant and longest manifestations of the American vernacular rococo style."
The rifle and several other items reproduced in the book, including a Grand Lodge of the Republic of Texas ceremonial apron (circa 1836-1845), are on view in Waco at the Grand Lodge of Texas Library and Museum. Located at 715 Columbus Avenue, several blocks south of the McLennan County Courthouse, the exterior of the massive limestone structure features sculptural friezes that depict the quarrying of stone, felling of timbers, and other labor that went into the construction of King Solomon's Temple—an important component of Masonic symbology—as described in the Bible.
A stroll through the library and museum (open weekdays only) provides a dandy-quirky leg-stretch when trekking long distances along I-35. In addition to a stained glass window with the all-seeing eye, you'll see a lock of Sam Houston's hair, an original playbill for an 1838 Houston performance of a drama entitled The Hunchback, a 4,000 year-old terracotta cone from the Lower Euphrates, Napoleon's death mask, a metal Masonic jewel dated 1798 that was excavated at the Alamo in 1982, and a deputation letter that Mason Buzz Aldrin carried to the moon and back on the Apollo 11 mission. Aldrin placed the celestial body under the jurisdiction of the Grand Lodge of Texas and established a lunar outpost called Tranquility Lodge No. 2000.
The exhibition accompanying the new book 'As Above So Below: Art of the Fraternal Lodge' is on at the Webb Gallery in Waxahachie through February 14. On December 10, the authors will speak and sign books in Austin at Uncommon Objects antique mall on South Congress from 7:30 to 10:00 p.m.