On Thursday evening (Dec. 3), the Museum of Fine Arts Houston is hosting a special, free admission screening of the rarely-seen 1975 Texas art documentary, Jackelope. The screening was organized by Pete Gershon as part of an ongoing series of programs leading up to the publication of his book Collision: Contemporary Artists Working in Houston 1972-1985. Gershon's chronicling of Texan visual art histories is commendable, and these public programs are nice community celebrations of that pivotal period in the local art landscape. This 40th anniversary screening of a new digital restoration of Jackelope will be followed by a discussion and Q&A with filmmaker Ken Harrison and artists in the film, including Bob Wade and Letitia Eldridge.
Following his 1974 short documentary on Texas blues singer/fiddler Albert Hunt (and a decade before he'd direct narrative feature films including two with writer Horton Foote), Dallas-based filmmaker Ken Harrison set out to capture creative moments in the lives of contemporary artists who'd chosen to live and work in their home state of Texas. The resulting hour-long, 16mm vérité film is an interesting piece of regional cinema, and one that hasn't been seen here in decades.
Jackelope begins at the lively opening of a group show at the Fort Worth Art Museum. From there, the film embarks on a journey in three sections, each focusing on a different artist. First, we follow sculptor James Surls and the evolution of his large wood piece, Blind Bear with a Crooked Stick–from cutting a tree at his father's East Texas farm for the work, to the month-long process of shaping it in his studio, and finally to its exhibition at San Antonio's Witte Museum. The second part focuses on artist George Green, who creates personally inspired and darkly humorous sculptures, drawings, paintings, and prints. We see Green in his Houston studio, at an artists' party, on a trip to Galveston Island, and at an exhibition of his work. The final chapter takes us along a whirl-wind tour of Central Texas with artist Bob "Daddy-O" Wade as he collects Texana and takes photographs for an upcoming show, with stops at a taxidermy shop in Waco, an Austin hatmaker's store, a fair in Luckenbach, and a shooting range. Finally, we see Wade installing his satirical photographs and sideshow displays in a New York gallery.

While Jackelope focuses largely on Surls, Green, and Wade, a number of other art notables are in the film. There is the enigmatic presence of artist Letitia Eldridge at an opening. We sit on the porch and look at slides with the late Chicano artist Mel Casas at his home outside of San Antonio. Mike McNamara, John Alexander, and a bunch of other artists are in there, as well as a brief appearance by Jim Harithas, then director of the Contemporary Arts Museum and a fairly recent transplant to Houston at the time.

Harrison was wise to take a fly-on-the-wall approach, shooting things as they organically meandered, and including no text, narration, or even any direct interviews. Because of this, the film doesn't really deliver a wealth of historical information, nor does it contain or assert any major revelations. But, especially seen 40 years later, its free, casual approach creates a much more interesting experience than if it were trying to be some kind of informative all-inclusive survey of Texas art. The film shows, on their own terms, a handful of now accomplished artists back when they were in their 30s. It shows something of the spirit and situation of artists in Texas, without really saying or defining anything. And it allows the viewer his/her own thoughts along the way.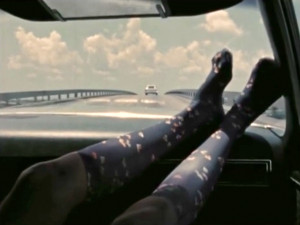 I had a lot of thoughts, which I'll spare you so that you might approach the film openly. But I will mention one odd little throw-away moment that stuck with me. Surls, sweating in the hot August sun as he wrestles with nature, catches his breath and says, "What would you give for an ice cold Dr. Pepper right now?" That line might not have made the cut in any other art documentary, but Harrison knew it was a real, relatable Texas moment. Its what we do here: A complaint in the form of a dream, expressed as a joke and a question.
Jackelope screens Thursday, Dec. 3, 7pm at the Museum of Fine Arts Houston's Brown Auditorium. Free Admission. Presented by Pete Gershon. Filmmaker Ken Harrison and artists including Bob Wade and Letitia Eldridge in attendance for a Q&A after the film.