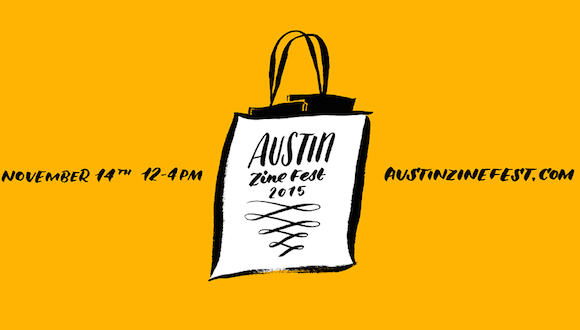 This past weekend, Glasstire was in Austin for EAST and stopped by the George Washington Carver Museum and Cultural Center to attend the Austin Zine Fest. However, there was a small handwritten sign on the door noting that the event had been cancelled. It turns out there had been questions from the Austin community over the nature of the forty publishers chosen to exhibit at the festival.
Austin Zine Fest (AZF) released this statement on November 8th (via their facebook page):
We want to directly address recent concerns about which groups are and aren't represented in the lineup for this year's Austin Zine Fest. A lot of this weekend's conversations centered around our process of inclusion and an individual who felt excluded. The individual in question simply didn't apply in time, it was never a question of their identity or their work. As a result of this conversation, we're looking back at our application process, programming and events. As a team of two learning as we go, we welcome your feedback and we promise that we're continuing to do our best to host inclusive events that serve as many individuals as possible. Stay tuned for updates regarding this weekend's Austin Zine Fest 2015 and feel free to reach out to us at [email protected]
Then, on November 9th, AZF re-opened their application, citing:
The original online application was open to all interested artists for a month in August/September and we posted it on all of our AZF and personal platforms. But we're two cis white women and posting to our friend groups while simply assuming that people from other social circles and backgrounds would see our official AZF posts was foolish and deriving from our own privileged experiences. We see that now and we take full responsibility for it and offer up a sincere apology to everyone that this affected.
A community action went as far as a group creating a separate meet-up once the festival had been cancelled, saying that Austin Zine Fest refused "to acknowledge their antiblackness by holding a white dominated zine fest in a historical black museum, who's main purpose is preserve black culture, and their refusal to host an open call when reopening their applications to black artists exclusively given the space it was being held in."
It appears that Austin Zine Fest plans to host events through 2016.