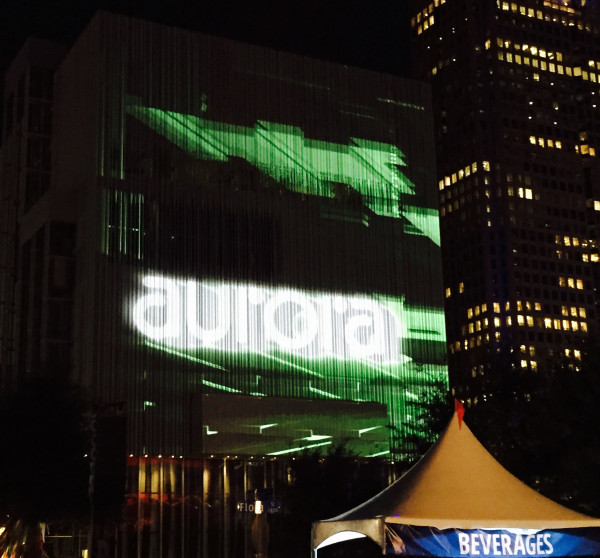 Aurora 2015 took on 19 downtown Dallas city blocks to create a mass spectacle of new media, including light, sound, video and performance. In the four years that I've been in Dallas, I've never seen downtown so alive with people. The festival attracted huge crowds, transcending the traditional art audience to represent a large cross-section of ages and cultures. The exhibition theme All Together Now seemed to succeed in fostering a sense of community. The ambitious program featured six curators who chose 78 artists' works. The festival took place from October 3rd to the 18th, but this main crowd event was on October 16th.
All Together Now explored synesthesia, or the merging of all five senses, though the majority of the works were visual and aural. Some common themes did emerge from the whole, including interference, transformation and interactivity.
Jon Vogt's video and sound installation Cornersection literally wrapped around the corner of Meyerson Symphony Center. The abstract, color-patterned video explored shifting patterns of interference, morphing viewers' shadows in the projection.
Liss Lafleur's audio and video installation You Belong To Me featured a projected video of a young woman lip-syncing the 1950's song. Unlike Vogt's work, the interference was not caused by a glitch in the video or sound, but by the fragmentation of the woman's body projected on five layers of vertical cut strips of fabric or "fringe," resulting in an uneasy tension.
Another work that explored both interference and transformation was Sean Miller's video installation Abri. It was projected on the Dallas City Performance Hall. The title refers to a cave-like opening found underneath a waterfall. The video that was created using real-time generative digital video feedback had an organic quality, sharply contrasting with the technique. This was one of my favorite works, resembling a moving, meditative Chinese landscape painting.
Interactivity was one of the key themes throughout. Two highlights of this segment were works by The Principals and Rhoda Weppler and Trevor Mahovsky. In Snowblind, the artist collaborative The Principals created a temporary architectural structure in which viewers were invited to enter and experience shifting colored cloud forms. The ethereal mist surrounding the installation reminded me of something from an X-Files episode—seductive, but with underlying peril.
The Midnight Star Market by artists Weppler and Mahovsky featured a small pavilion filled with internally illuminated food boxes and containers. Each miniature light sculpture was meticulously hand-crafted. The artists allowed viewers to take a sculpture, eventually causing the market to grow dark.
A major challenge for participating Aurora artists was that the work had to be immediately accessible to the public within a few seconds. The format was not conducive to anything with a long duration, a complex narrative/idea, or work that didn't loop. The noisy crowd prohibited any deep contemplation of the artists' works. At best, this allowed for a surface reading, focusing on the eye-candy spectacle. D Magazine art editor Peter Simek characterized it well by asking if Aurora was an artistic gateway drug for the public or "a Watered-Down Selfie Fest?"
I didn't get to see all of the work, which was disappointing, but it was also impossible. Some of the interactive pieces had very long lines, and I would have appreciated an online app that had an interactive map with GPS coordinates to help me navigate through the exhibition. (Hint hint.) Although many of the works had illuminated signage, it was difficult to see with the large crowds. I also missed some works that I was eager to check out, including Elissa Stafford's and Carolyn Sortor's.
I left with the Beatles' song Come Together stuck in my mind, for better and worse.
All images by the author and Aurora.