In conjunction with Nocturnal Hologram, the current Houston exhibition of installation works by Los Angeles-based artist Katie Grinnan, DiverseWorks and Aurora Picture Show are co-presenting a program of short films this Wednesday that parallel the show's attempts at materializing dream-state cognition. Aurora curator Mary Magsamen took cues from Grinnan's work and the artist's suggestions of influential filmmakers Maya Deren and Stan Brakhage as the starting points for assembling a dynamic selection of historic and contemporary works of experimental cinema.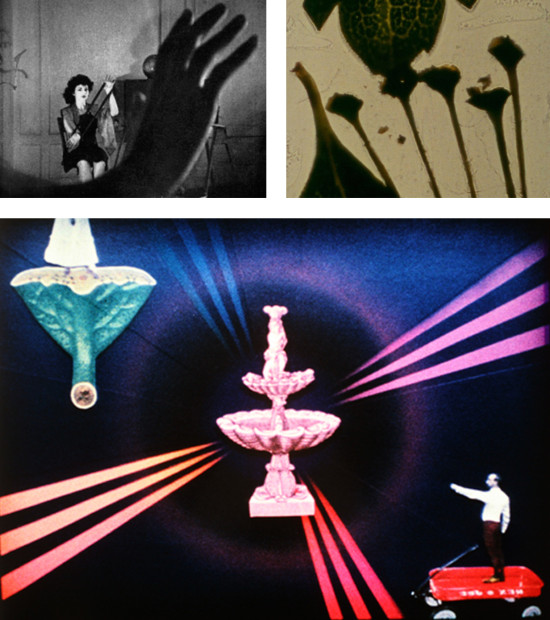 A trio of historic selections—one film from the 1940s, one from the '50s, and one from the '60s—showcases the unique visions of a few of the medium's greatest experimental innovators, and should create a nice collective experience in this context. Maya Deren's Ritual in Transfigured Time is a choreographed, gestural work incorporating both performed movement and filmic manipulation of image, time, and space. Mothlight is another kind of cine-dance altogether, and one created without the use of performers or even a camera. Its kinetic abstractions are created by Stan Brakhage's assemblage of found natural elements such as moth wings and flower petals applied directly onto clear film. Mirror Animations, created by cultural alchemist Harry Smith, is an unusual cut-out collage animation incorporating a variety of occult and religious symbols and music by Thelonious Monk.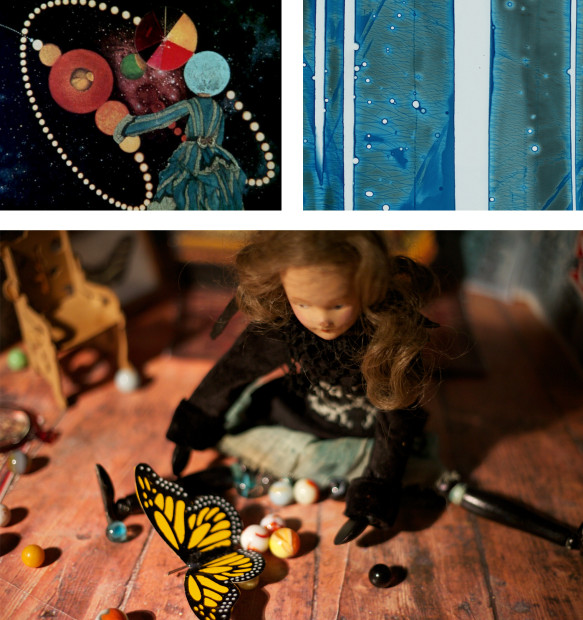 The program also includes an interesting trio of contemporary works. Solar Sight (Parts 1 & 2) is a recent, contemplative collage film by legendary Bay Area film artist Lawrence Jordan, who's been channeling the unconscious with his surreal animated works since the '60s. The two newest films included are Josh Lewis' series of chemically created abstractions, Doubt, and Martha Colburn's METAMORFOZA, created with dolls, miniature sets, and found footage. Colburn is a consistently brilliant modern practitioner of experimental stop-motion animation, and the Houston premiere of her latest film is particularly exciting.
Serpentine Dance is a nice choice for opening the program. It's not only the earliest of the works shown here, but it's one of the earliest films ever made. Shot in 1896 by French film pioneers Auguste and Louis Lumière, this simple short features a dancer whose billowing dress has been hand-tinted to create a continually changing spectacle of form and color.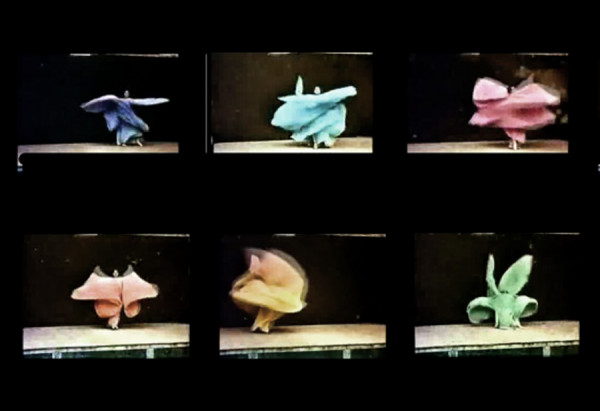 Objects, Matter, and the Dream State is a great cross section of works that use movement and assemblage to re-orient realities. While the program sheds light on the history and currents of experimental cinema, it should also open an interesting perspective on Grinnan's exhibition. Though after seeing these, you'll likely wish for the telekinetic ability to activate the kinds of gestures, whirlwinds, and collisions that her work's suspended imagery begs for.
Objects, Matter, and the Dream State screens Wednesday, October 21 (6pm) at the Aurora Picture Show. Admission is free. More info here.