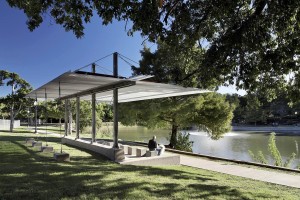 Just in time for Dallas' best weather: On Sunday, October 25, from 5 to 7 p.m., there will be a free and public celebration of Kidd Springs Park in Oak Cliff, Dallas, with lots of live music, called Performance as Gesture: Songs for a City Park. It marks the completion of a research-based art project by curator Cynthia Mulcahy, which is funded by a grant from the City of Dallas Office of Cultural Affairs.
Mulcahy has spent a great deal of time tracking down what exactly makes Kidd Springs Park and its beloved gardens so enigmatic and charming–its history is deep and surprising–and the evening celebration "is intended to recognize the rich cultural history of the public park's Japanese gardens."
Per the project's webpage:
Research in public municipal, museum and library archives in Dallas, Chicago, San Francisco and New York as well as oral interviews with park visitors conducted by Mulcahy have revealed not only a rich history  of personal recollections of citizen use of the public gardens at Kidd Springs Park, but also the surprising provenance of several of the Japanese artifacts now residing there. As it turns out, this public city park has quite an engaging story to tell. 
For more info on the park, the evening's performances, and the project itself, please go here.