The San Antonio gallery Ruiz-Healy Art jumped into the fray of the 21st Annual Fotoseptiembre USA photography festival with the exhibition Cecilia Paredes: The Wandering Flight. Openings at Ruiz-Healy tend toward good conversation with art aficionados and professionals.
Paredes is known for her "photo performances," incorporating herself into the photographs by blending into the surrounding environment. The immersion is so painstaking that it's difficult to discern where she ends and the background begins. She says, "I think that in these works, aesthetics bind with the anthropologic in order to register fragments of personal and social memory."
The Peruvian-born artist currently divides her time between Lima and Philadelphia. She was in San Antonio for the opening reception of the show on September 3, 2015. The exhibition continues until October 10, 2015.
Text by Tami Kegley; photos by Page Graham.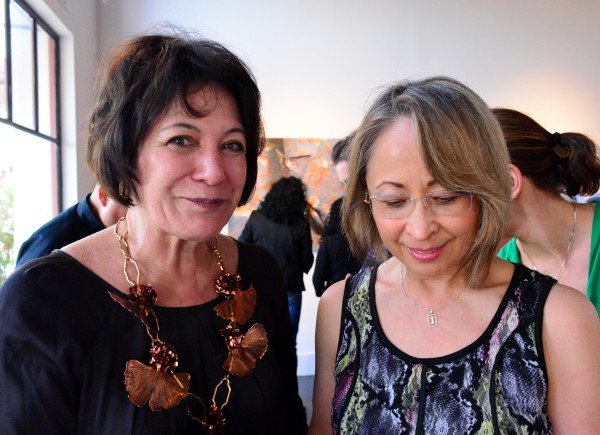 The artist Cecilia Paredes (l) at the opening of her show The Wandering Flight.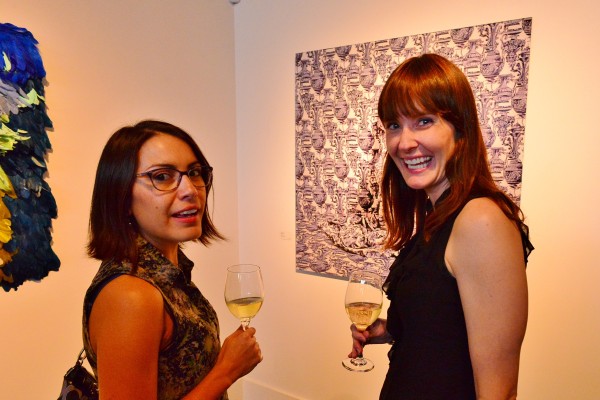 Photographer Jenelle Esparza and Ruiz-Healy Assistant Director Alana Coates with a work titled Corinthians-3/7 (2014).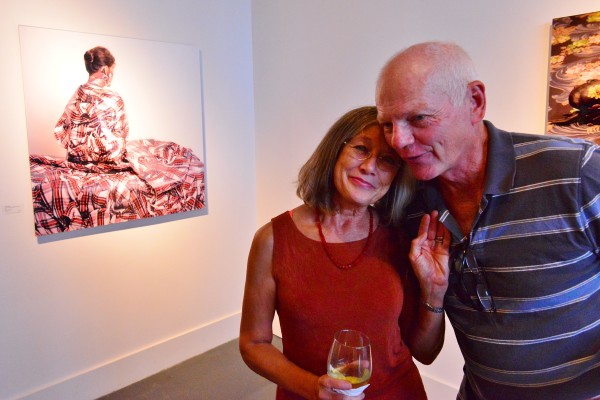 Artist Kathy Cunningham Little and a friend in the crowd. Artwork: En tus alturas (In the Height of Your Sky)-3/7 (2014).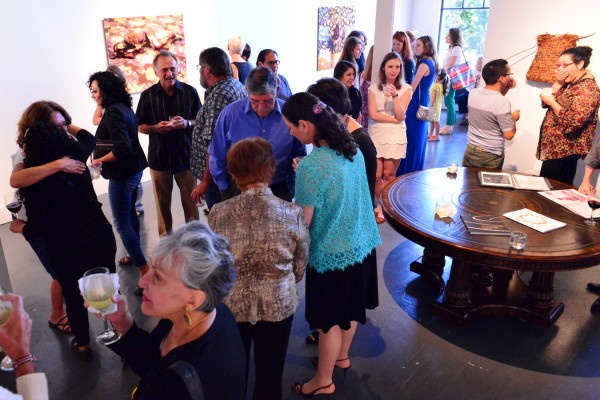 Patricia Ruiz-Healy (center) with UTSA President Dr. Ricardo and Dr. Harriet Romo.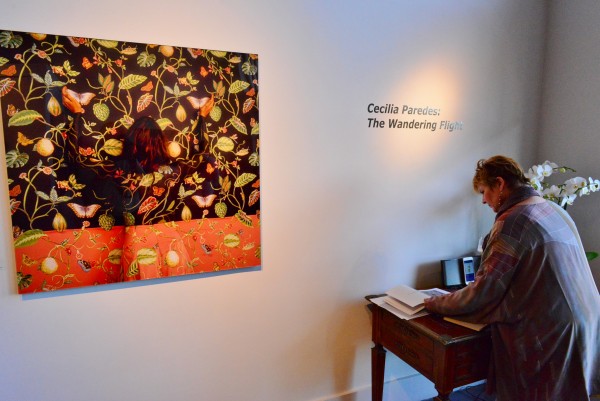 Checking out the catalogue (with an essay by San Antonio arts writer Sarah Fisch). Artwork: Forbidden Fruit-1/7 (2015).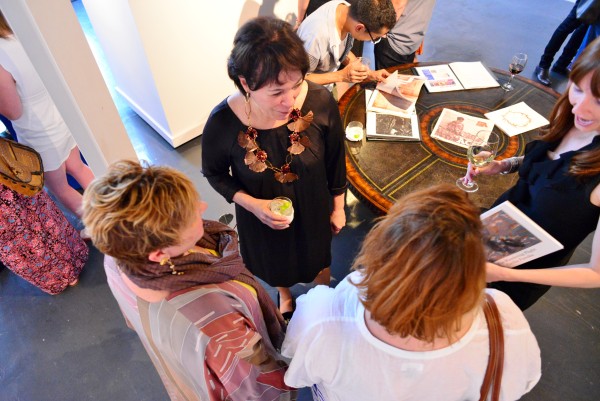 Assistant Director Alana Coates with writer Sarah Fisch.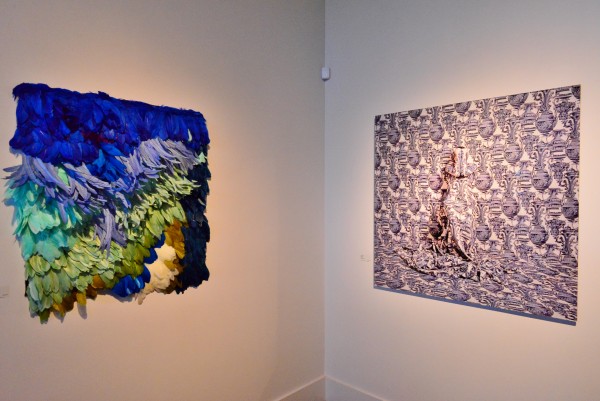 Shawl II (l) and Corinthians-3/7 (r), a crowd favorite during the opening, according to Coates.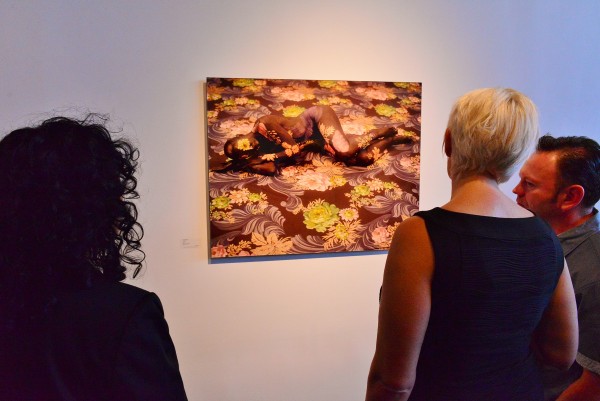 Le Jardin-1/7 (2015).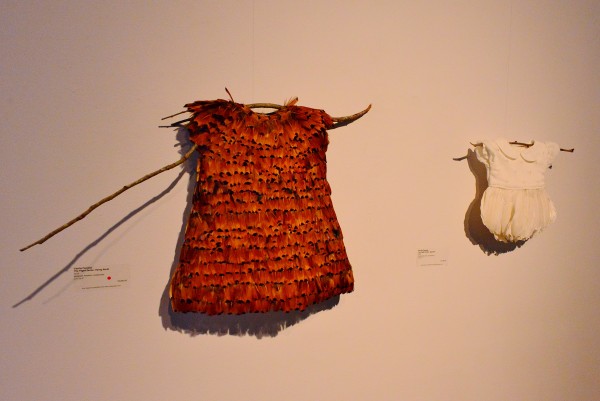 The Flight Series: Flying North (l) and The Flight Series: Sparrow (r). "For the artist, the use of the feathers and the wings is closely related with the idea of rebellion and freedom." – Simon Flores, New York, 2007.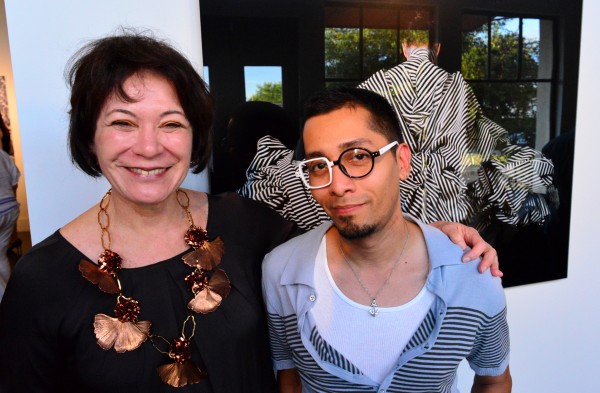 Paredes, ever on the lookout for her next muse. "I want to photograph him," she says. Artwork: La Dorsal-4/7 (2014).