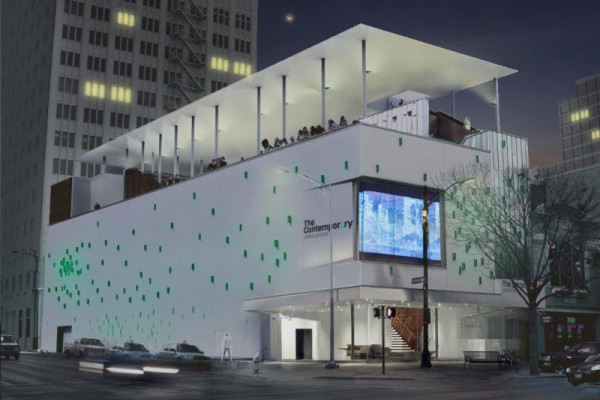 It has been announced that The Contemporary Austin is planning for a major renovation and expansion in the summer of 2016. This will be made possible by a $1.3 million grant from The Moody Foundation of Galveston and pledges from the museum's board.
The building, which underwent an unfortunate form-over-function renovation in 2008 by the architectural firm Lewis.Tsurumaki.Lewis (LTL), will hopefully become more art-friendly through this renovation. An electronic lift will be added so preparators will no longer be required to haul artworks up the building's stairwell to the second floor gallery. Additionally, exhibition space will be expanded from 5,100 square feet to over 7,000 square feet, which will allow The Contemporary to take on larger traveling exhibitions. It's still small by museum standards, but it's a step in the right direction.
The most exciting feature of the redesign is the addition of a permanent canopy over the rooftop of the building. It is aptly named "The Moody Rooftop" in recognition of The Moody Foundation's monetary contribution. The museum is hoping to use the roof as a space for films, concerts, lectures, and a plethora of other public programs.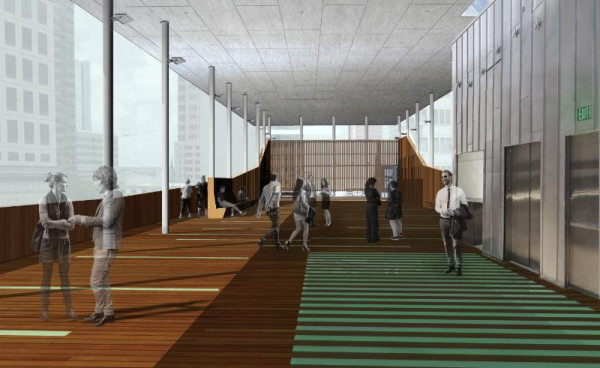 Ross Moody, Trustee of The Moody Foundation, had this to say about the grant: "I couldn't be more pleased to offer this grant to The Contemporary Austin for the creation of The Moody Rooftop. The Contemporary Austin is evolving into a dynamic presence in the cultural life of Austin, and The Moody Foundation is committed to supporting the museum's ambitious vision. I look forward to generations of Texans engaging with contemporary art in this stunning space."
All in all, the Jones Center is getting a much-needed facelift. The architect taking on the redesign is none other than Paul Lewis, the original architect of the building. The project will cost $3 million (compared to the $6.6 million price tag on the building in 2008, when it was Arthouse), and should be completed by mid-fall of 2016. Let's see if the changes are for the better.