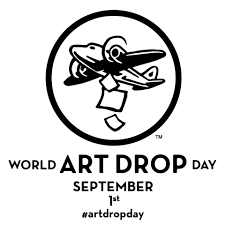 Today marks the second annual World Art Drop Day. It's been done before here and there but, last year, illustrator Jake Parker declared the first Tuesday in September to be World Art Drop Day as a sort of "Drop art, not bombs" and "Art makes the world a better place" thing. It caught on in a number of places. Here in Texas, El Paso is participating, as is San Antonio's Southwest School of Art. (If you know of other local participants, please post below.) According to the Facebook event pages, here's how it works:
 Make some art (This is open to all artists – everyone who creates!) and hide it somewhere.
Take a photo of either the art or the hiding spot or a combination of both.
Post the image, the area of town you dropped it in, and a hint on any social media of your choice.
Include the hashtags: #artdropday (this is the worldwide hashtag) and #SSAartdrop2015 (this is the SSA hashtag) or #artdropdayEP (the El Paso hashtag).
Then move on, hoping someone finds it. OR hang around and meet your new friend.
IT'S THAT SIMPLE!
And if you claim a piece of art yourself, post a selfie of you and your new art with the hashtags as a thank you!
Go hide some art! Go find some art!