The Southwest School of Art opened their annual All-School Exhibition with a special members' preview reception on Friday, July 17. Art aficionados in the know make a point of hitting this event with their collections in mind. The 2015 exhibition was juried by the individual department chairpersons, with SSA President Paula Owen making the final curatorial decisions. Works by students at all levels are included for consideration, as well as the work of faculty. Here is a glimpse of some of this year's highlights.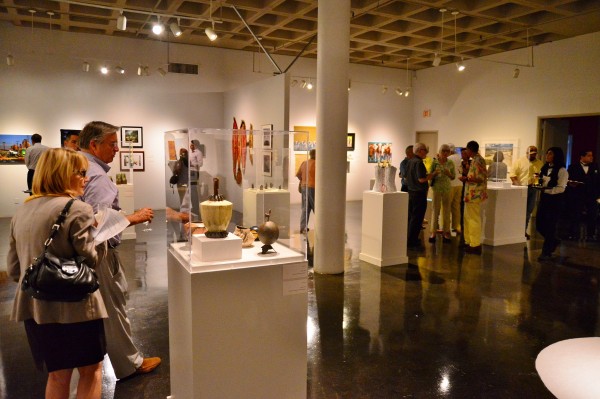 Art + Wine + Nosh + Good Conversation + Brisk Sales = Successful Opening Night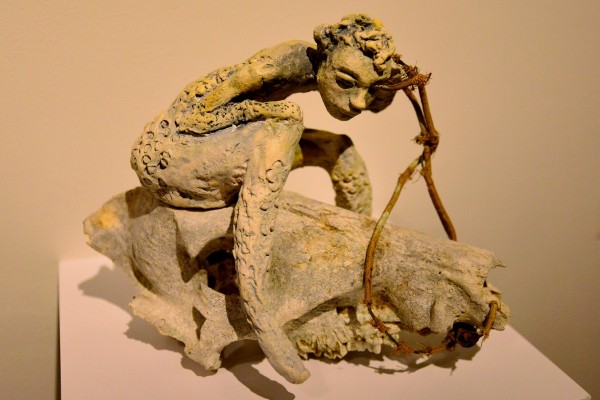 Hand-built sculptural work by student Alicia Tapp. La Femme Gris, 2015, ceramic (8" x 9" x 5").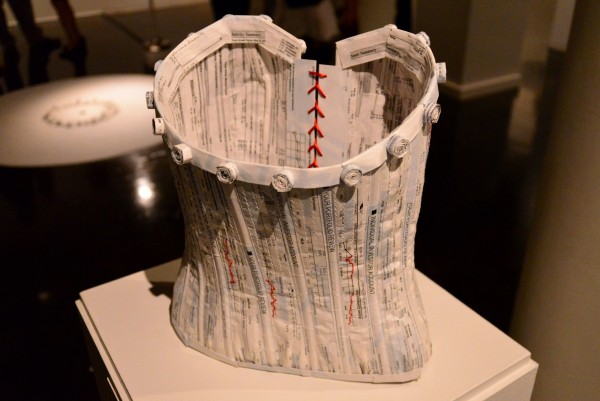 Mixed media sculptural corset by student Georgia Zwartjes. Tight Security, 2014, shredded financial statements, thread, cording (15" x 14" x 9").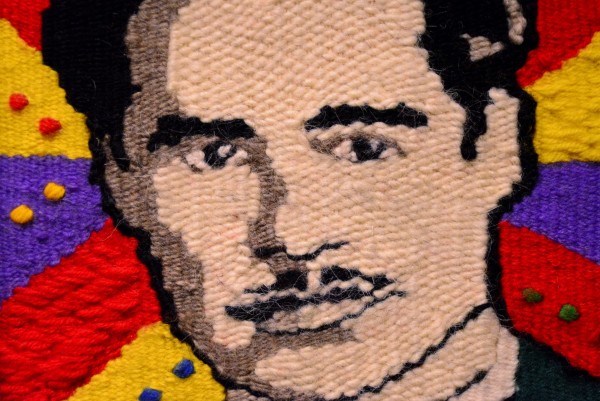 An unusual graphic approach to the media by student Jamie Rivera. Antonio (detail), 2014, tapestry weaving (14" x 11" x 1").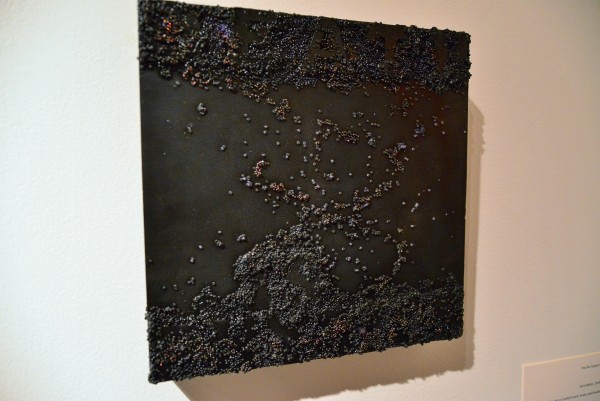 A subtle approach to the art of words by student Priscilla Ferguson. Dark Matter, 2014, India ink on cradled board, wood, seed beads (12" x 12").
Mixed media sculptural work by student John Ledbetter. Spinal Alignment, 2014, bone and ceramic (17" x 8" x 12").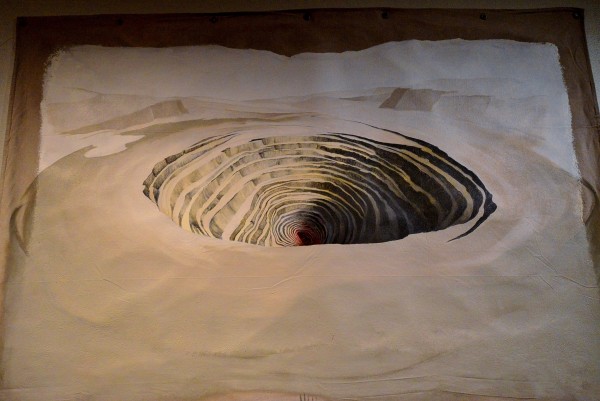 Masterful work by student Suzanne Pacquette. Wound (Pit Mine), 2014, oil pastel on monotypes (72" x 58" – detail).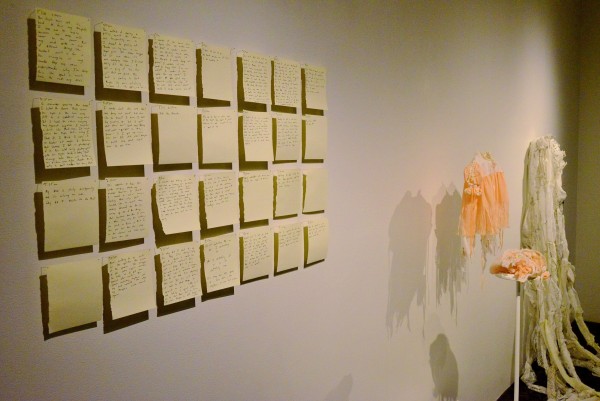 A mixed media installation by Metals Studio Manager and faculty member Sarah T. Roberts including My Easter Dress (28 hours) and Armor/Amour (R), both created 2015. In My Easter Dress (28 hours), Roberts successfully merges the arts of diarist and performance artist into an eloquent and powerful visual that stands on its own.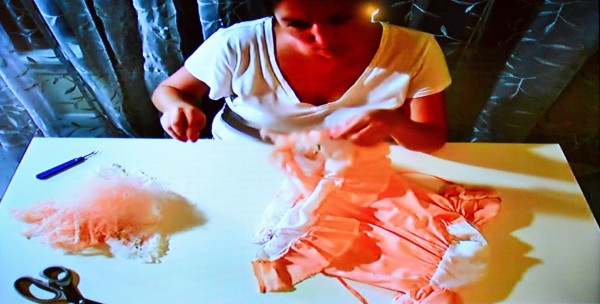 Video image of Sarah T. Roberts from My Easter Dress (28 hours), 2015. A highly personal piece, the time-lapse video documents Roberts as she deconstructs a dress made for her by her mother over the course of a 28-hour period.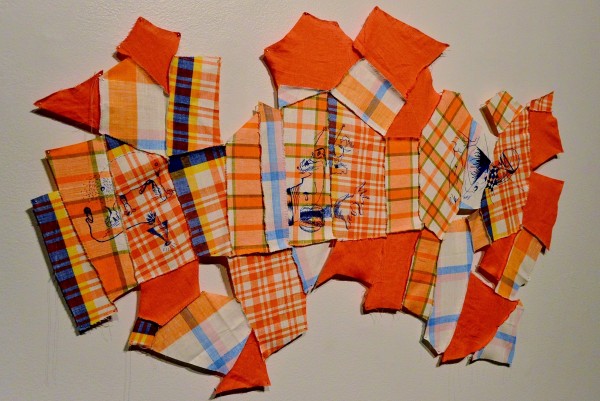 Fiber collage by Interim Fibers Department Coordinator Casey Galloway. Berlin Collection 3/6/15 – 3/15/15, 2015, found linen fabric, cotton thread.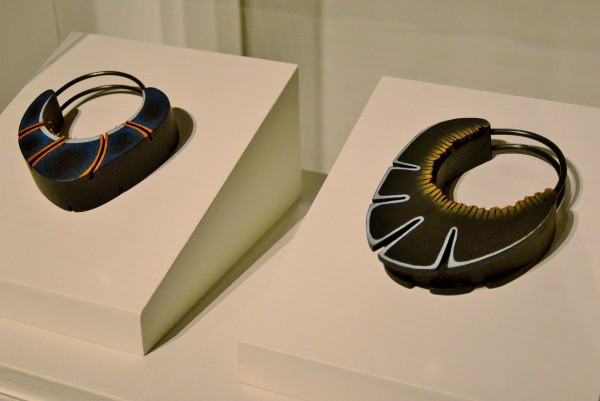 Mixed media sculptural neckpieces contributed by Interim Metals Department Chair Jillian Palone. Birds of a Feather No. 1 & No. 2, 2015, wood copper, gesso, colored pencils, monofilament.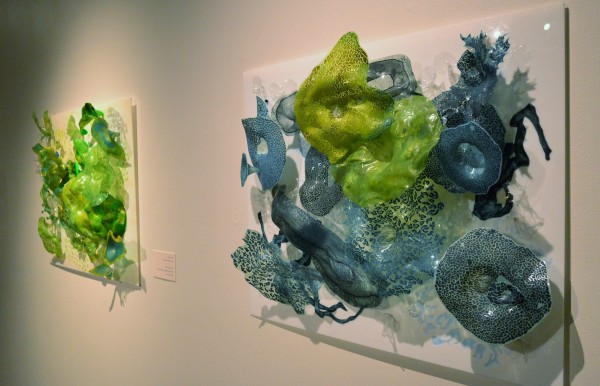 And one more from the "No One Ever Made Trash Look So Good" department. Printmaking Department Chair Margaret Craig contributed a couple of her exquisite mixed media installations. Atlantic Wall Reef and Pacific Trash Reef, 2015, repurposed plastic, tar gel etching, epoxy acrylic. Shown courtesy of REM Gallery.
The All-School Exhibition is being shown in the Russell Hill Rogers Galleries (1201 Navarro Street) and Ursuline Hall Gallery (300 Augusta Street), San Antonio, TX 78205. The show runs through August 30. Free and open to the public. More information is available at swschool.org.