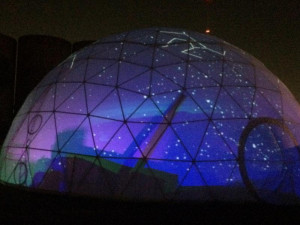 Horse Head Theater Company is set to premiere its production of The Whale; or, Moby-Dick at an unusual spot down at Buffalo Bayou in Houston. What's also unusual is that the audience will watch the production inside the whale, designed and built by Houston artist Troy Stanley, who (via Horse Head) "has produced three 2014 public art installations with the Houston Arts Alliance and is represented by the Barbara Davis Gallery."
The audience will watch the play "from the inside of an enormous 44-foot dome," which "will come to life through video projections and extensive soundscapes… ." Stanley worked with artists Eric Hester, Mat Kubo, Logan Sebastian Beck and Robert Thoth and of course Horse Head artistic team and visiting set designers including Jacey Little, Kevin Holden, and Clint Allen.
The Whale; or, Moby-Dick runs July 29 through August 15 at the Buffalo Bayou Partnership Silos, 351 N. St. Charles; all shows begin at 8 p.m. For info go here.