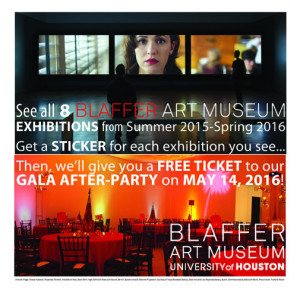 Blaffer Art Museum is offering a special promotion that can win you a FREE ticket to their 2016 gala after-party on May 14, 2016. All you have to do is go to Blaffer, pick up a sticker card, and "collect a sticker for every Blaffer exhibition you see between Summer 2015 and Spring 2016." If you don't think you can hold onto a sticker card for that long, don't fret! You can also keep track of your museum visits via email.
Since some of the exhibitions are on view simultaneously, you only have to visit the museum five times to collect all eight stickers!
Go see some art and get a ticket to what Blaffer claims will be the "hottest party of 2016."
The current exhibitions, Teresa Hubbard / Alexander Birchler: Sound Speed Marker and Early Awnings: Henning Bohl with Sergei Tcherepnin are on view at Blaffer until September 5th.