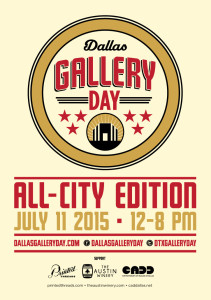 This coming weekend is the 4th annual Dallas Gallery Day: All-City Edition event, which is actually the evolution of earlier East Dallas and Design District gallery days.
This version, which takes place Saturday, July 11 from  noon-8 p.m. is truly all over the city. There are (as of this writing) 30 spaces participating (double last year's number) and the geographical range runs from the Design District to the Cedars to Trinity Groves and Deep Ellum, all the way up to Valley House in the far north of the city. For a list, go here.
Dallas Gallery Day was founded by Brian Gibb of the Public Trust in 2012, originally as the East Dallas Gallery Day. The official DGD Gallery Guide is available at each participating gallery.