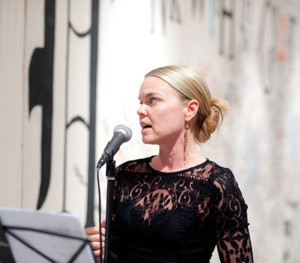 A big retrospective of Lesley Dill's work (especially her work as it relates to theater and performance), called Lesley Dill: Performance as Art, has been on show since June 10 at the McNay in San Antonio. This Thursday, the New York artist will premiere a performance piece at the museum. It's called "Drunk With the Starry Void" and it's in collaboration with "composer/vocalist Pamela Ordoñez, motion graphic designer Laura Oxendine, and featuring singers Kyrenda King and Andrew DeVoogd from San Antonio's Copperleaf."
The word "premiere" is a little loose here: this is an expansion of a performance that debuted in 2012 at George Adams Gallery..
Here's a description of the 35-minute piece: "The performance consists of songs composed by Dill and Ordoñez that explore the philosophical conundrums of evil and grace. With words, music, and voice, the listener is carried through meditations on thoughtfulness, lust, heaven, hell, torture, and bliss. Animated projections of Dill's drawings created by motion graphics designer Laura Oxendine complete the visual environment."
For more info, go here.
"Drunk With the Starry Void" will take place Thursday, July 9 at 6:30 pm in Leeper Auditorium at the McNay Art Museum, San Antonio.