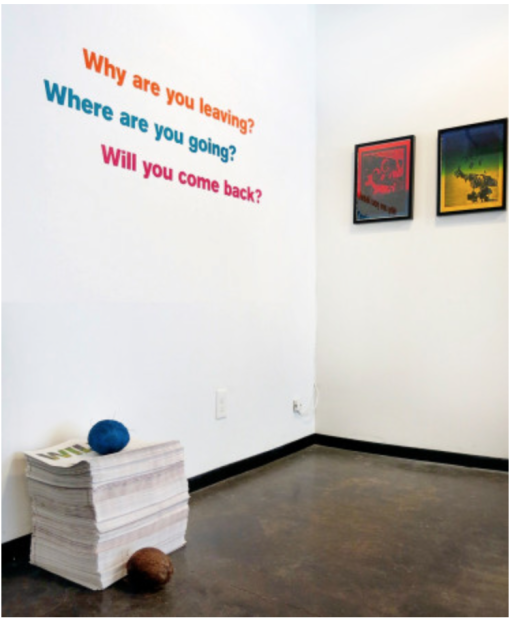 A few weeks back I went to The Reading Room in Dallas to meet with the New York-based artist Aaron Krach. We talked about the Dallas police station shooting that happened the night before, and the new state gun laws; we also talked about his current show at The Reading Room. He spoke with such humility and tender feelings that it was as if it's someone else's work. In a way, it is.
The focal point of the show is a newspaper Krach designed that chronicles the dramatic history of a single painting: Gauguin's "Nafea faa ipoipo (When Will You Marry?)," which was made in 1892 during Gauguin's first trip to Tahiti. Krach's primary presentation is a sculptural stack of folded newspapers arranged with a couple of coconuts, but the paper can also be pulled out and read. Its text recounts the details of the original painting's provenance and depicts fourteen different book covers using the image. The front page asks the show's titlular question "WILL YOU COME BACK?" in extra-large type, and inside the newspaper, there's a two-page spread of the painting along with the title extension, "WHY ARE YOU LEAVING? WHERE ARE YOU GOING?"  
Along one wall is the show title in tropical-colored text, and nine framed woodcuts. The prints are inspired by the painting, but also by the woodblock illustrations Gauguin made for Noa Noa, his Tahiti travelogue that's now considered to be of dubious veracity, drummed up to bolster his painting sales. A tenth print, unframed, hangs separately. In a related artwork, Krach mailed purchased postcards with reproductions of another of Gauguin's island paintings, and it chronicles its original provenance through Paris to a buyer in Moscow, where it was seized by Lenin and banned by Stalin. That painting now hangs in the Pushkin Museum in Moscow, while the mailed postcard reproduction (bought at a going-out-of-business sale in Manhattan) hangs in The Reading Room.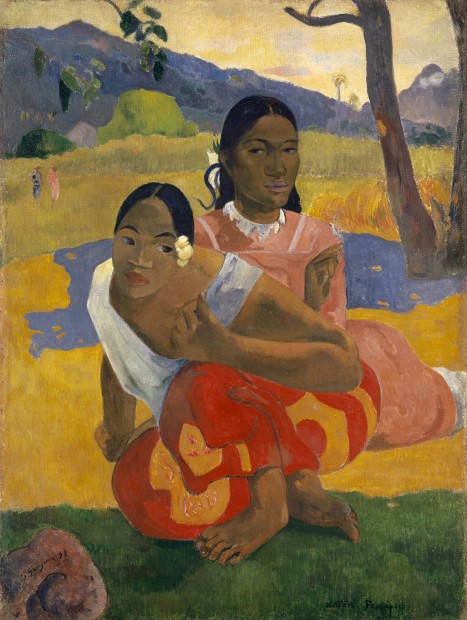 Here some context around "Nafea fas ipoipo" is called for; it's integral to understanding Krach's exhibit. Gauguin, seeking to discover a more authentic primitivism for subject matter than could be found in France (and after skirmishes with friends and family), left for Tahiti in 1891, only to find it already westernized, and the way of life he hoped to capture mostly gone. Nonetheless he idealized the culture in his paintings, hoping for better sales back home, but the market for his work was disappointing. His career, personal life, finances and health went up and (mostly) down, and it wasn't until after he died in 1903 that this work was truly valued. 
Indeed, Gauguin's sale prices have risen ever since, and this particular painting sold privately early this year for $300 million, making it the most expensive artwork in history. Originally bought at a discount as an investment for a businessman's heirs, it had been in the same family for nearly a century and on long-term loan to the Kunstmuseum Basel since 1947, where it remained until last weekend. Now it will go on a pre-arranged, one-year museum tour, and then quite possibly vanish from public view. 
The painting has been extraordinarily popular among Gauguin's works, and graces the covers of a number of books on the artist; the image is familiar to anyone with even a passing familiarity of art up through post-Impressionism. In this late-career island painting, note that of the two female figures, one is depicted in western dress, which is key: Krach's work here deals with issues of globalization, via both personal and political histories, as seen through the lens of art.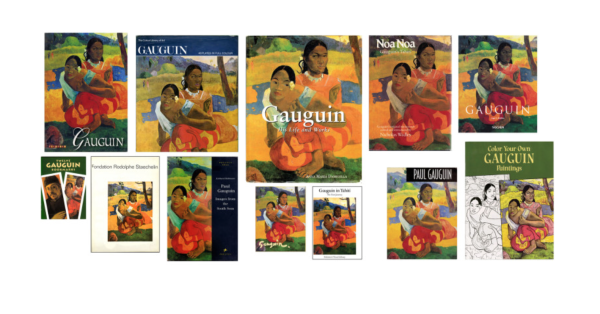 Krach's show title in full — Why are you leaving? Where are you going? Will you come back? — comes from a place of romantic sadness over the painting's potential disappearance. The buyer of the work is widely rumored to be the Qatari royal family (not confirmed), and it's not clear whether it's going into their museum initiative or behind closed doors. Either way, it's in keeping with a major transition in art collecting. Qatar, the richest country on earth, has become the biggest buyer of modern and contemporary Western art. Though Krach didn't bring this up this directly, his work at The Reading Room is a reflection of the recurring cycles of changing fortunes, geographical shifts, tourism, and culture itself. Just as Gauguin 'borrowed' culture for his own gain (as a former stockbroker, he announced to his European family that he'd return to them from Tahiti a rich man), Qatar is also co-opting a culture. As ascendant nations have done throughout history, Qatar is using art as proof of its own importance. 
Qatar is hiring top international architects for high-profile cultural centers and filling beautiful new museums and an airport with blue chip art (Bourgeois, Fischer, Serra, et al.); the small nation pays lip service to the idea that foreigners can feel comfortable there. But if you follow headlines, you know that Qatar is also known to be one of the worst offenders of workers' rights, and sharia law rules, with floggings, stonings and the like for personal or religious impropriety. Women's rights are limited in Qatar, and unions are banned outright. Gauguin was the grandson of feminist proto-socialist Flora Tristan, who argued for labor unions and women's rights, but Gauguin himself was a known philanderer (a high crime in Qatar) and  by today's standards a serial pedophile. His first family dissolved because he regularly had sex with island girls as young as twelve, until his death from syphilis in 1903; he was by then a father many times over. What does it mean when repressive society aggressively buys art so at odds with its own values?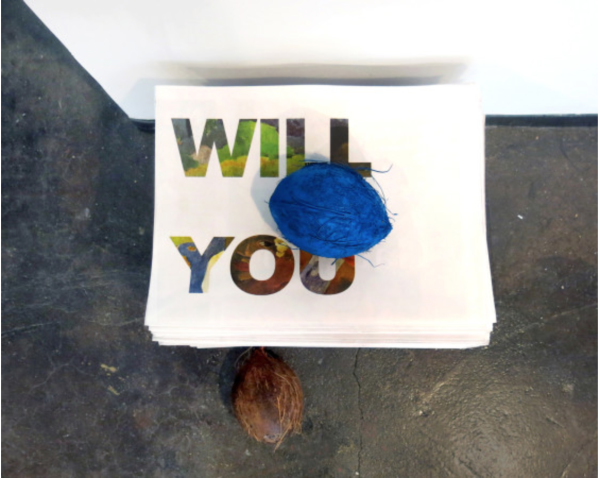 Krach wanted to use the newspaper, a dying town-crier medium, for showcasing the painting one more time, and for free. Or a thousand more times, as it were, since he printed that many.  The newsprint format seems to serve this project best, and the beauty of it is that it allows time to absorb the complexity of Krach's work outside of the social setting of a gallery. The woodblock prints don't serve that function, although they do add to his overall endeavor. Krach has used print formats variously in other projects, notably in The Author of This Book Committed Suicide, NYPL; 4,582 Stars; and his art-book based on the catalog of an exhibit of furniture by Mies van der Rohe. In an interview with Keri Oldham of Field Projects, NYC, he spoke of his interest in "ephemeral materials and existing distribution methods" and half jokingly called his work "emotional conceptualism" – a goofy but accurate description. So if you didn't get out to Switzerland last weekend, at least get out to The Reading Room. 
'Will you come back?' runs through July 11th. There will be a closing-reception talk on July 11 on value, art collecting and related issues as they pertain to the Gauguin painting given by Dallas Auction Gallery director Brandon Kennedy. 
Images of the Aaron Krach's work via the artist.