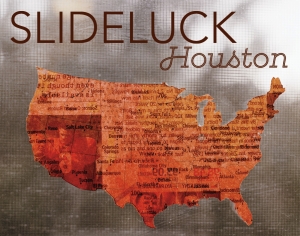 Dallas has held two successful Slideluck events; Austin has held seven. Now, the Houston Center for Photography (HCP) is holding the very first Slideluck Houston!
Part slide jam, part pot luck dinner (although both slides and pot lucks are pretty rare these days), the event is presented in cooperation with New York-based Slideluck, a non-profit organization dedicated to building and strengthening communities through the mixture of food and art. Since 2000, Slideluck has shown the work of roughly 10,000 emerging and established artists in over 100 cities worldwide.
Slideluck Houston will take place at Cottonwood (3422 North Shepherd Drive) on Wednesday, July 22, from 7-10pm. Artists are invited to submit their photographic or video works for consideration by Friday, June 26. (Guidelines on submission specifics and entry form may be found on HCP's website.) The theme of the Houston presentation is "Cruel Summer," inspired by the Bananarama song of the 1980s.
https://youtu.be/9ePIZugahFc