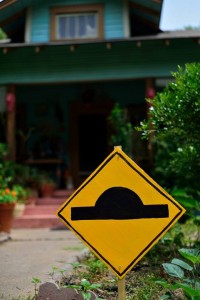 DFW: Here's a great way to kick off your summer.
An annual neighborhood art studio tour in Oak Cliff called the Visual Speedbump Art Tour started in 2000, and the 2015 tour is Saturday, May 30! There are 30-plus artists and art spaces opening up for the public.
Visual Speedbump is a self-guided, open-house style tour that runs from noon to 6 p.m. It's free, and there are printed maps at each stop. Included this year are Chuck and George, Kim Cadmus Owens and Lily Smith-Kirkley, and the Safe Room at Texas Theater.
"Come out and see artists in their natural habitat… ."  Why yes, we will.
Saturday, May 30. Go here and here for details on the participants and printable maps.