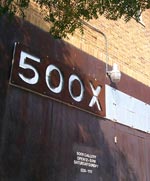 500X, the storied building and long-running artist co-op in Dallas, has released two intriguing bits of information.
1) They are hosting something called Project Space Rentals, which is sort of like a mini-residency, and means that artists can make a proposal in a bid to get studio space in the building to make work and then exhibit it. The charge is $200 for a month. Your opening would correspond with openings in the main gallery space. Via 500X: "You can drop off proposals at the gallery on Saturdays and Sundays from 12-5 or mail to 500X Gallery 500 Exposition Avenue Dallas, TX 75226 214-828-1111."
2) 500X is hosting an open show this summer called, appropriately, Hot and Sweaty. This is truly an open show; no jury, no curating. If you have work that is no bigger than 48 inches in any dimension, it's ready to hang, and you can pay the $10 entry fee for each entered work, you're in. Drop off is June 6 and 7 between 2 and 5 p.m., and expect a salon-style hang. Limit six works per artist.
Also, via 500X:
"500X staff will be on hand to assist in placing and hanging work. All work must have adequate hanging hardware, wire and/or D-rings. Works that are not fit for display will not be accepted. Pedestals are available first-come first-serve basis.
All media is accepted, however, video/sound/electronic works must have all equipment provided by the artist. 500X will take a 40% commission on all sales. All participating artist must sign the contract stipulating the full terms of exhibition in gallery.
Show Runs

June 13th – June 28th
Opening Reception:

June 13th

7-10pm
Pick up:

June 28th

5-7pm

;

June 29th

6-8pm
Works not picked up by

June 29th

will be discarded."
Update and clarification on 5/26, via 500X: 
"…the project space rentals are only for a one month exhibition and do not include studio space. It actually works just like the upstairs gallery rentals. Artists submit an exhibition proposal and CV as well as 20 images and then the members vote on which exhibitions will take place. It costs $200 to rent the project space if the exhibition proposal is accepted.
Also, this is the fourth consecutive year that 500X has hosted Hot and Sweaty but the open show has come and gone throughout the history of the gallery. It has been a great way to give artists who may not have had the opportunity to exhibit work the chance to do so."