"Limits" is a relative term. Like beauty, it is often in the eye of the beholder. –Chris Burden
Artist Chris Burden died yesterday of a malignant melanoma at his home in Topanga Canyon, California, reports Christopher Knight of the Los Angeles Times. Paul Schimmel, a close friend of the artist and the former chief curator at the Museum of Contemporary Art who had organized Burden's first retrospective exhibition in 1988, said Burden was diagnosed 18 months ago, but kept the information relatively private.
Most students of art history know him for the extreme performance art of his youth, which included getting shot in the arm, crawling through glass, and crucifying himself on a VW Bug. Some of these works were among the TV ads he aired in L.A. on KHS-Channel 9 in the 1970s (a video below). Artforum states that, "Burden has made an indelible mark on the history of art and he will be an enduring symbol and spirit of how far bravery, imagination and a little pain can take the artist."
Later, Burden became known and respected for his large-scale sculptural works, most notably for the famous streetlamp installation outside of LACMA. His Porsche with Meteorite is on view now at Gagosian Paris. In 2009, a deal that Gagosian Gallery had struck to buy $3 million in gold bricks for Burden's work One Ton, One Kilo was frozen when it turned out that the bricks had been acquired from a Houston-based company owned by financier Allen Stanford, who was later sentenced to 110 years in prison for cheating investors out of more than $7 billion over 20 years in one of the largest Ponzi schemes in U.S. history. As of 2013, the gallery's gold has been frozen while the SEC investigates Stanford and One Ton, One Kilo cannot be mounted until the gold bullion is released.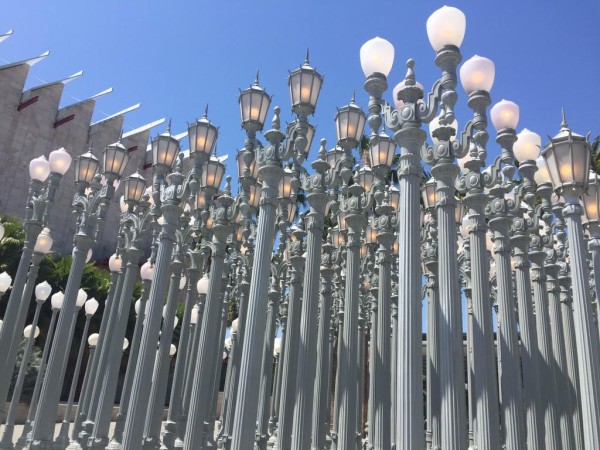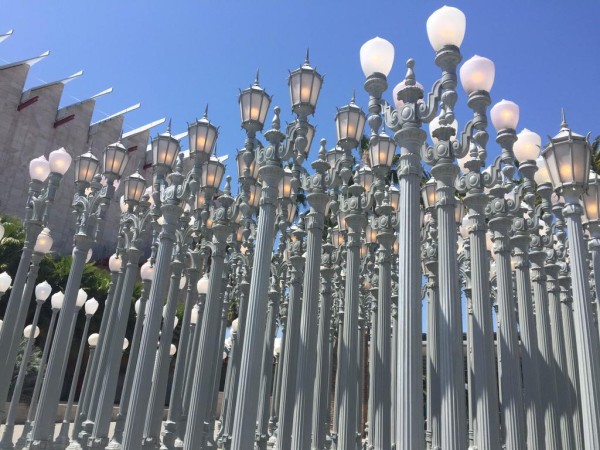 Burden was so influential in the seventies performance art scene that he was the subject of the 1977 Laurie Anderson song "It's Not the Bullet that Kills You—It's the Hole (for Chris Burden)" and, in the same year, David Bowie released the classic "Joe the Lion" with the lyrics "Nail me to my car and I'll tell you who you are" and "Guess you'll buy a gun/You'll buy it secondhand." Burden's final sculpture, a lyrical homage to Alberto Santos-Dumont, the Brazilian aviator who flew the first practical dirigible around the Eiffel Tower in a momentous 1901 flight, will be shown for a month at the Los Angeles County Museum of Art in a special exhibition beginning May 18.
Burden was born in Boston, Massachusetts in 1946, and lived and worked in Topanga, California. He is survived by his wife (and sometimes collaborator) Nancy Rubins, his second wife.
The Wall Street Journal quotes his dealer, Larry Gagosian, who began working with Burden about 1978 as the first artist his gallery represented: "He was every inch an artist, as tough and uncompromising as any I have ever met."