Christine West recently announced that she's stepping down as director of the Lawndale Art Center in Houston after more than eight years at the helm. I visited with her recently about the Houston art scene, past and present.
RK: You've been a mainstay in the Houston art world for years. Prior to Lawndale, you ran the Galveston Arts Center and of course worked for a spell as events editor for Glasstire, and at the Orange Show before that. How did you get into the art world to begin with?
CW: I'm from a large Greek family, born and raised in Houston. I attended Longfellow, Pershing and Bellaire schools here and I was always involved in art, even as a kid. I studied art at Trinity University, but I ended up working in the design world at showrooms in New York, Philadelphia and Dallas. After 11 years in the design business, I just wanted to get back into contemporary art.
You and I met when I was working for Barry Whistler Gallery in Dallas in the late 90s. When I moved back [to Houston] in 2000 to work for Orange Show, that's when I got into nonprofit arts administration. And now I've been around the Texas art scene for almost 16 years.
There was a conversation on Glasstire recently about the ability of artists to work unfettered in the way they used to, when they plunked down public art along Buffalo Bayou in the '80s without anybody's permission—and of course how the Art Car parade started—and the argument was being made that there is not the same kind of freedom for artists today. Do you agree with that?
No. I don't. Look at Artstorm, look at Box 13, look at GalleryHOMELAND. Artists are doing stuff and making stuff happen. Chasity Porter is doing Dormalou. Or Gallery Jatad. I think there's so much available to us in terms of not having to do older business models and older models for PR and marketing, and you can create your own thing.
It may be harder to do guerrilla art along Allen Parkway today, but it's certainly possible in Acres Homes or parts of the Northeast side.
Hell yeah! It's not going to happen in the same place: Montrose isn't the same as it was, the Heights isn't the same as it was, but it's still Houston. And there's a lot of Houston.
What are you most proud of from your time at Lawndale?
When I started at Lawndale, I wanted to breathe some life into the organization. I came on shortly after a capital campaign and a major renovation. They had spent a lot of time fundraising and spent time out of the space, and I think it was tough getting back in and getting going. I wanted to make it fun and welcoming, and a place where people would see something different every time they visited. I think we did that, partly by re-energizing the programming committee. Having those on the committee who are both practicing artists themselves and/or arts administrators and curators, or art history teachers, means they all bring a different perspective to that process. And the programming committee has a three-year term so that keeps it fresh. We've always benefitted from not having a singular eye picking the shows.
Given your strong background in design, how do you think about the design world verses the art world?
I wish they were more integrated. I wish that Texas-based designers would consider Texas artists when furnishing homes. Unless the client is a collector, [designers won't think about] filling a home with local artists as opposed to just going to one of those showrooms that gets "art" from China off a truck, and filling it with that stuff which costs the same if not more. It's just sad, and it's an afterthought, when it could be something really joyful and supporting your local community at the same time. I know there are designers who are dedicated to that, I just wish there were more.
Were you were thinking about that when you changed the old Lawndale Midcentury Modern fair to the Design Fair?
Well, around that time we had clarified our mission statement: to develop local contemporary artists and the audience for their art. And Houston was seeing an influx of really great industrial design coming out of the University of Houston's industrial design department—which is the only one in the state!—and the idea of designer-maker-artisan was becoming more visible. So we thought why not speak to our mission more by considering and highlighting these contemporary artisans? So we added the Texas Co-op where we could feature individual, small product line designers who may not have the funds to rent a whole booth, but they had great stuff to show.
What is most needed today in Houston, if anything? What do artists most need?
Everybody needs money and an affordable place to work. I am a little bit disheartened by the us-verses-them mentality that I'm hearing from artists towards arts organizations. I seems like there's some division between the idea of an artist and an arts organization, whereas our mission states that we are here to develop local artists. We are all about providing opportunities for artists. Now we can't do that, just like they can't, without funding. So I don't understand where some of that negativity is coming from. Also the idea that arts organizations aren't staffed by working artists. So many smaller grassroots arts orgs employ practicing artists! We need each other. And we need a community where that's valued. Because not everybody can be the Beer Can House.
Do you think it's easier or harder to be an artist in Houston today?
It's always hard to be an artist. It's hard to have to have the courage to express yourself, it's hard to sell your work, it's hard to conform if you're a non-conformist at heart, so I don't think it's ever any easier or harder. Any decade you look at, artists are struggling to do that thing they have to do.
So what's next for you?
Part of why I'm stepping down is very personal – it's about personal growth. When you're in the middle of running an organization and giving it your 150% every day, unless you're an extremely balanced person, which I'm not, it's hard to grow as a human being. And so part of why I'm leaving is to explore some of my own creativity and art-making practice. I want to get back into the studio. I'm also looking back to my old theater days and exploring voiceover talent work, which I've been very curious about for a long time.
But my other goal to stay in the art community and hopefully be of service to it in a different way, and I haven't figured out what that is at all. I still want to be supportive and active in the Houston art community as much as I can.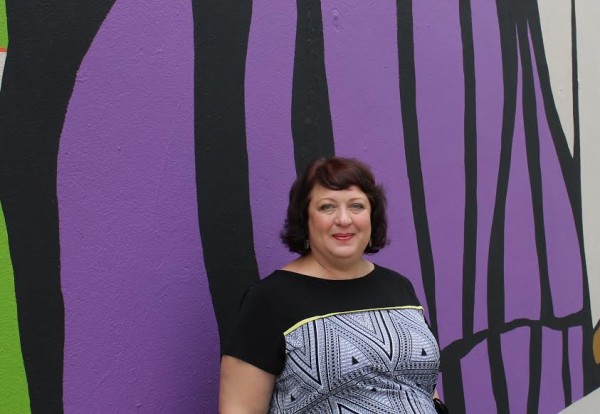 Correction 5/9/15: this article originally stated that Christine west was the director of Lawndale for over seven years; the correct number is over eight years.