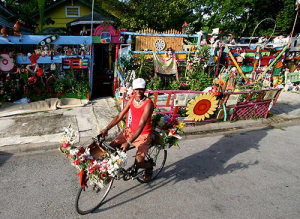 A year after the death of folk artist Cleveland Turner, a.k.a. The Flower Man, his Houston house on Francis Street and much of its contents have been found unsalvageable due to toxic mold. The house's owner, Project Row Houses, are working toward a commemorative event for the day of demolition and will "pursue other means of commemorating Mr. Turner's life."
PRH convened a special panel to consider Mr. Turner's legacy, and says "Some salvageable artifacts have already been removed from the space" to be decontaminated. They are having a commemorative website designed now, and have set up a Facebook page in the meantime.
Also, according to PRH: "This past year, the 2014 Houston Thanksgiving Day parade included a 'Flower Man Float' designed by artist Philip Pyle II and Everything Records; it now belongs to the City of Houston and will continue to be a living work of art dedicated to Flower Man. Project Row Houses also plans to install a Billboard in Dupree Park to commemorate the time that Mr. Turner lived next door as a neighbor, friend, and fellow artist."
For more info watch this space.