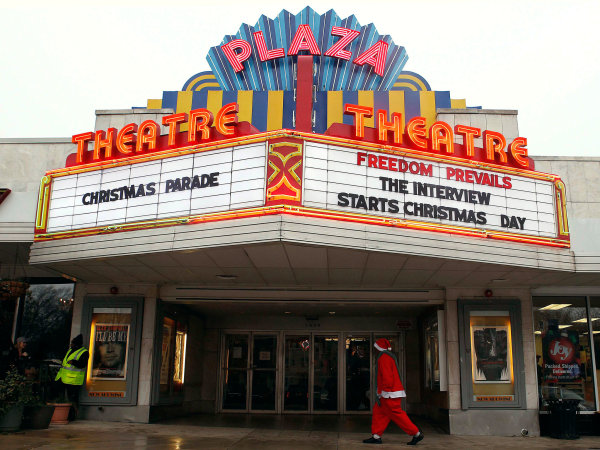 Sure, some people actually wanted to see the generally-panned, raucous comedy with Seth Rogen and James Franco, but when Sony decided to cancel the release of "The Interview" last week, many people were simply outraged by the assault on the American ideals of freedom of speech, including President Obama and George Clooney. Then, when the Alamo Drafthouse announced that it would show "Team America" as a replacement, the joy at the ironic consolation prize was short-lived as Paramount Pictures almost immediately cancelled those screenings as well. That made folks even madder, including Glasstire's own Christina Rees (read her plan of attack here).
Suddenly, though, Sony has reversed its decision and is allowing a limited release of "The Interview." The film is being shipped overnight to over 200 theaters for Christmas day showings. Many people believe that a group called Art House Convergence had a lot do with the decision since the group sent a letter/petition to Sony (read here) a few days ago. Many people also think that the Alamo Drafthouse was instrumental in the reversal since the Drafthouse was the first to sign up to hold screenings.
Tim League, CEO of the adventurous Austin-based theater chain granted an interview with Indiewire, which was posted yesterday evening. League, who says he enjoyed the film, clarifies his stance: "But this is more about freedom of expression and the necessity of this to come out as planned." League explains that, since the Drafthouse is relatively small company, it was able to react quickly and nimbly to Sony's latest decision. League states that the entire ordeal was more complicated than is portrayed by the media:
It was just so big, so crazy that a giant like Sony fell to this type of attack. I'm glad, looking back on the last couple of weeks, that they took time to regroup, assess and consider the pros and cons before coming back with a strategy. I'm happy they've done that and I'm proud to support them.
"This is the best Christmas gift anyone could give us," he said in another statement. "We, both distributors and exhibitors, have collectively stood firm to our principles and for the right to freedom of expression. Two days til Christmas, and I am proud to be an American."
Here is the list of Texas theaters that are showing the film, although many report that are already sold out:
Town & Country Drive-In, Abilene
Alamo Lakeline, Austin
Alamo Slaughter, Austin
Alamo South Lamar, Austin
Alamo Ritz, Austin
Venetian 8 Bar & Grill, Carrollton
Pine Hollow 6, Conroe
Look Cinemas Dallas, Dallas
Texas Theatre, Dallas
Galaxy Drive-In 5, Ennis
D-Max 6, Gainesville
Alamo Vintage Park, Houston
Alamo Mason Park, Katy
Alamo, Lubbock
Star Cinema Grill, Missouri City
Mt. Pleasant Southside 6, Mt. Pleasant
Alamo Marketplace, New Braunfels
North Shore Cinema 8, Portland
Alamo, Richardson
Alamo Park North, San Antonio
Alamo Stone Oaks, San Antonio
Alamo Westlakes, San Antonio
City Base Cinema, San Antonio
Mayan Palace 13, San Antonio
Rialto Bistro 9, San Antonio
Silverado 19, Tomball
Star Cinema 6, Webster
(Top image: Tami Chappell/Reuters)