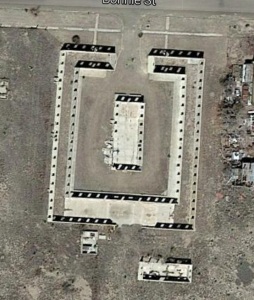 California artist Robert Irwin's permanent piece for the old hospital building at Fort D.A. Russell in Marfa has been in the works for years, but as it nears actual construction, a dust storm of controversy has arisen over the extent and intent of the remodel.
On December 5, the Chinati Foundation's held a public forum on the project. Chinati's executive director, Jenny Moore, associate director Rob Weiner, and project manager Peter Stanley presented an introduction to Irwin's work and an overview of Irwin's plans and drawings for the installation at Chinati.
In a letter to the Big Bend Sentinel on December 17, Hilary duPont outlines concerns that the propsed "re-use" of the historic building amounts to a demolition and rebuilding, primarily because it would be cheaper, and that it's not WWJD (what would Judd do).