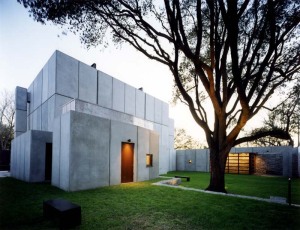 The Menil Collection's Byzantine Fresco Chapel has been empty since 2012, when the Menil deintstalled and sent back to Cyprus the 13th-century Greek Orthodox frescos it was built to house in 1997. The Menil has announced a new installation for the re-purposed space, opening in January: a commission by Janet Cardiff and George Bures Miller, the internationally renowned sound-video-sculpture artist pair based in British Colombia. It was organized by Toby Kamps, The Menil's curator of modern and contemporary art.
The new installation will be in the Byzantine Fresco Chapel for one year. It's called "The Music of Spheres" and is a mobile + sound piece which will fill the space and is based on the "theory that the movement of celestial bodies creates harmonies," and, "Visitors will hear an audio collage including recordings collected by the NASA spacecraft Voyager when monitoring the interaction of solar winds and Earth's ionosphere."
Based on the success of Cardiff-Miller's earlier acclaimed works, such as Forest (for a thousand years), The Murder of Crows, and The Forty Part Motet, we suspect this new commission will be a doozy and look forward to it. For more info on the Chapel and the artists, please go here.