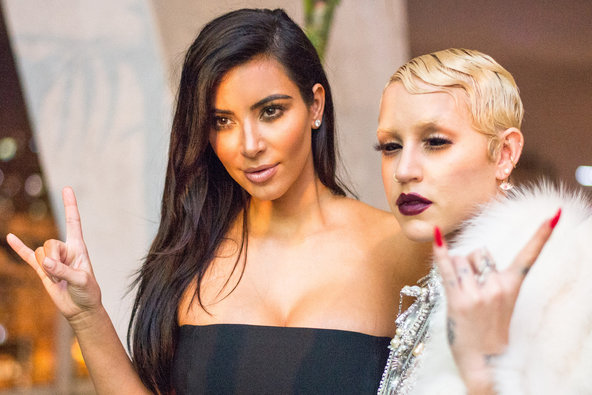 I've been looking at Instragram over this last week, and the deluge of pics of Miami Basel was overwhelming, sycophantic, repetitive and shallow. I've been there, I know art fairs. There's absolutely nothing heartening in this scene for the artists, except for the couple of dozen who are okay with being hot for two years before their work is dumped en masse at auction.
I wonder if this is the worst time to be an artist in decades, or maybe ever. Some conditions for many artists haven't really changed for centuries: Misunderstood, overlooked, overworked, underpaid, ripped off, debt-ridden, trapped in an unnatural system once driven by church and religion but now driven by the religion of money. I think it's all just getting worse and will continue to do so until artists can somehow reclaim it. I wouldn't switch places with an artist, not even one who's "doing well," because it means his work is primarily being treated as an investment rather than a piece of humanity.  I don't think what's going on out there is really art anymore, anyway. It's showbiz. And most artists aren't born with a disposition to play that game.
I think the environment for nearly all artists has eroded and we're left with a shambolic, hypocritical, irrational system sending mixed messages about what an artist is meant to be, what kind of art they're meant to make. And the percentage of good art worth spending time with hasn't gone up with the population of artists, because, I think, artists aren't encouraged to make art that requires time to understand. People looking at art don't have the time, no one has the attention span. If the art isn't instantly gettable, forget about it. Literally. So now on with the flood of those who thirty years ago wouldn't have been called artists; they're actually graphic designers who've figured out how to make conceptual-lite work, and most of the galleries are just retail spaces for this trendy kitsch. Certainly art fairs are.
I realize Miami Basel is not the entire visual art world, and plenty of people have already written their screeds against it, so I won't continue here. But the New York-based artist Paul Slocum (of the much-missed Dallas gallery And/Or), in a video we posted yesterday, is asked by Glasstire why he didn't visit Miami Basel over the weekend. He said that as images flooded his Instagram, he decided "This doesn't look like where I  want to be right now." He continues: "It's all the same tricks. After a while, you've seen all the tricks, over and over and over again."
Gimmicks. Even the good artists are being forced by the market to play this way.
I believe good artists are born to be artists; it's built into their molecules. Artists are compelled, by some combination of nature and nurture, to create and react. There's evidence, through brain imaging research and mental health research that artists brains are different from non-artists brains, and that creative people's brains are making connections and associations non-creative people's brains do not, regardless of background and education. They are intellectually more curious and prone to be autodidacts.
We can't ask an artist to suddenly not be one, any more than we can force eye color or sexual orientation. But I wouldn't want to encourage a really creative little kid to grow up to be a visual artist these days. I'd say: sure, be creative, but do something else. Write, design, compose, direct, collaborate. Be a storyteller, or a comedian. Make art in private. But don't subject yourself to "the art world" as it stands, "the art market," the MFA game, the gallery system. No one seems to be actually enjoying art anymore—the stakes are too high and always moving—unless there's absolutely no money at stake, and that's not sustainable for an artist who wants to eat.
I'm concerned about the showbiz version of art infiltrating Texas as the economy continues to grow. The eccentric, undefinable ecosystem of Texas art has enjoyed, up until now, a period of independence, but the showbizzy nature of the larger market is creeping into the cities here and I don't think anything can be done about it. The money doesn't favor mystery, rumination, subtlety, strangeness. Things that make art worth your time.
I even worry that the ArtPrize is exactly the opposite of what Dallas should take on right now because Dallas is already too susceptible to showbiz bullshit. I realize I wrote recently that I thought the ArtPrize could help solidify one trend I'm liking these days, but so far my hope for it stops there. Dallas and Grand Rapids are very different kinds of places; bringing a lot of art to Grand Rapids might be like giving a good art survey book to your uncle who's never thought much about art. Bringing the ArtPrize to Dallas, I fear, would be more akin to giving some Real Housewives a Botox party and a box of wine. We'll see.
I don't have solutions; the world is in so much flux and the digital revolution is in full swing. I don't have a crystal ball. Writing all this out isn't going to help any artists. But the Art Basel Instagram feed was so deathly I was compelled to write it out.
Ed note: On June 27, 2017, Glasstire published Rees' follow-up to this op-ed.