Recently, the national news has been overflowing with stories of African-American men (and boys) killed by police officers and the ensuing frustration at the lack of accountability for the deaths. Yesterday, Hyperallergic's Jillian Steinhauer published a powerful short essay entitled "#BlackLivesMatter vs #ArtBasel." In Miami to cover the Art Basel art fair, Steinhauer talks about walking out of the fair (which had poor cell phone coverage) yesterday to check her Twitter account. She juxtaposes two photos from tweets she opened and ends her article with the sentence, "What more is there to say?"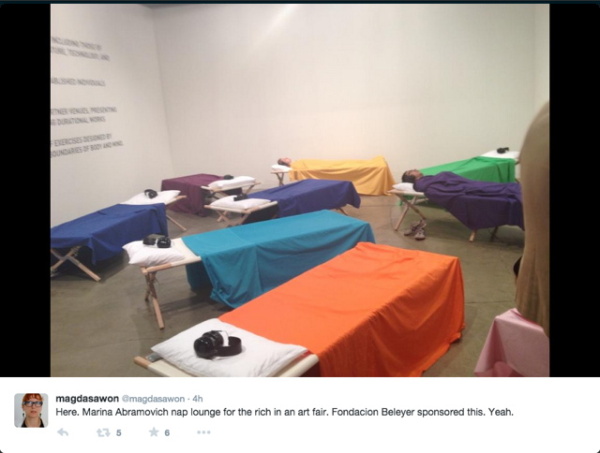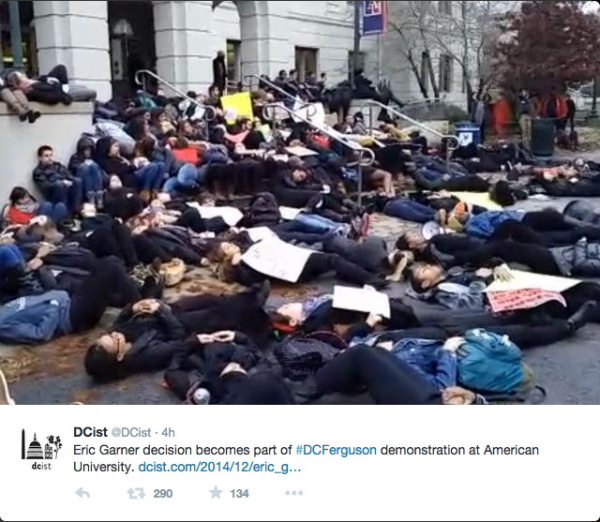 Marina Abromovic tucking in the tired super-rich seems like a surreal and out-of-touch counterpoint to the reality of the daily news but, while the Staten Island grand jury announced that it would not indict police officer Daniel Pantaleo for the killing of Eric Garner, Miley Cyrus—former Disney star/now visual artist—was on stage performing for the celebs in town. Here is a paragraph from the AP article about her show:
"This year has constantly challenged me, and that's why I started doing art," she said before launching into a song she wrote after her friend's cat spoke to her in a dream. The macabre song, which she also played on the piano, seemed to get to her and she abruptly banged on the keys at the end, saying she was sick of talking about death and wanted to move onto something fun.
There may be some artists who are capable of living in the art world and the real world simultaneously and they might be found tonight (December 4, 6:30-8:30pm) at Houston's El Dorado Ballroom. The El Dorado will be hosting an event entitled, "After Ferguson? Houston Justice Town Hall."