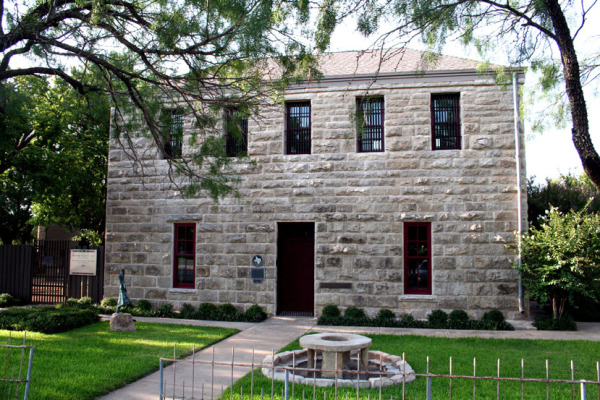 One day after Thanksgiving, Rainey Knudson and I met at the Old Jail Art Center in Albany, Texas, to shoot a segment for an upcoming Glasstire video about our favorite regional museums in the state. But now we're hung up on the term "regional," and know we need to rename the video something like "Our Favorite Out-Of-The-Way Museums in Texas" or "Small-Town Texas Museums To See Before You Die," because, as the Old Jail's curator Patrick Kelly pointed out to us as we were taping, the word "regional" could easily be construed as what Rainey and I and you the readers would more likely call "provincial."
In other words, The Old Jail, which exhibits curated shows of historic and contemporary artists from all over the state and beyond, and has an impressive permanent collection, is decidedly not provincial, and therefore perhaps not regional either, though originally we were using the term to delineate regions of Texas (i.e. the panhandle, the valley, etc).
If going by programming and collecting, the Old Jail is no more provincial/regional than, say, the Amon Carter in Fort Worth, which has a permanent Western art collection but a rotating exhibition program we understand to be international.
We'll figure out a good name for the video. But to get technical about language, every museum and exhibition-based art space in the world, no matter their content, could be deemed provincial and regional because they have to come at their programming from their own starting place, which is where they actually are on the map both culturally and geographically. Even if they're something of a tourist destination or favorite stop on an art pilgrimage, there's no denying the local community that the space is expected to serve and speak to directly—especially museums with the educational programming they maintain to qualify for non-profit status—and their board members and directors are usually a part of that immediate community (at least part time).
The Old Jail could get stuck with the term regional not because of its program, but because it's two hours from any larger place that has a recognizable art scene. But we expect big cities to cultivate art scenes and art; we expect non-cities to import that art if they want their museum or gallery to avoid provincialism. (Every town could have a community center where the weekend watercolorists gather and pin their stuff to walls. None of that leaves town.)
But we know, for instance, that the New York City art scene is often accused (more than others) of being provincial, in that it historically has tended to glorify art being made there more than in other cities in the US and abroad, and plenty of globetrotting art lovers love to call out NYC's cultural provincialism. Actually, people outside of NYC just generally like calling out NYC's provincialism, period. But I'd also insist that the world fully expects art to come out of New York the same way the world expects wine to come out of France. The cultivation is in place.
Texas is in the unusual position of not only being vast, but having concentrations of real wealth in areas well outside its major cities. I'm referring to old (for Texas) money based on industries that helped build Texas' economy in the first place, like cattle ranching, the oil and gas industry, the building of the railroads, etc. Albany is one of those areas where a families built huge ranches but traveled and studied and collected well outside of the state. The Old Jail exemplifies worldliness despite being nowhere near a major university or art-based institution or arts colony (Black Mountain College → Asheville, NC) or artist estate (Donald Judd → Marfa).
Here's another ball of "regional" label wax: We label artists, too, as regional, or local, or international. But these labels are often meaningless. If an artist from Dallas who has just started showing is asked to send a piece to Zurich for a group show in a gallery, is that artist really, suddenly, international? The people who write press releases would have you believe it. I know artists in Texas who make the kind of work that would do well in many contexts in many countries, but maybe they haven't exported their work. We can't call them international. On the other hand, I know artists who make work that makes more sense closer to home and would baffle the Swiss. They are proudly regional in their outlook and output. But we mark the artist as local verses international not based on the work, but rather where the work has been. I've likely been guilty of falling for or perpetuating the label "international" when what I really mean is: the work was shipped across a border.
But back to institutions. My question I suppose is: what should the word "regional" mean when applied to Texas, given its size and oddly distributed wealth? Can we call Texas' smattering of outward-looking, wealth-built institutions in semi-rural and rural places "regional," and if not, what should we call them? Yes, we can refer to the Old Jail Art Center as an accredited museum that rightfully lands on a lot of people's "to visit" list, but is there any one term or phrase that can stretch to help define it to Texans and non-Texans who might not be aware of the state's "regional" non-regionalist art spaces? I'm not asking this as critic so much as I'm asking as a person fascinated by language.