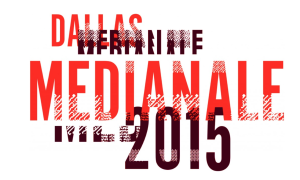 A new film and video showcase organized by the Video Association of Dallas, called the Dallas Medianale, will launch at the McKinney Avenue Contemporary in Dallas on Jan. 9 and run on various weekends through March 17, 2015. Screenings and performances will include newer local offerings as well as international iconic video and multimedia work by the likes of Joe Sola, Bruce Nauman, and Francis Alÿs.
The various installments and installations are curated by Michael A. Morris, Carolyn Sortor, Danielle Avram-Morgan, and Charles Dee Mitchell. (Disclosure: Mitchell is a Glasstire board member.) There's also a workshop co-hosted by Oil+Cotton on Jan. 10 "by Kyle Evans and James Connolly of Cracked Ray Tube [who will] instruct students in building DIY audio/video synthesizers and analog video transmitters to create their own audio/visual works of art."
 A quick rundown of dates: 
January 9 and 10:  Screenings and Performances in the MAC's Black Box Theater, curated by Michael Morris
January 10 afternoon: Cracked Ray Tube Workshop with Oil and Cotton
January 17 and Feb 13th: The opening of the first and second exhibitions of installations in the MAC's galleries, including "Call and Response" and the screening of films from Experimental Response Cinema, curated by Danielle Avram-Morgan and Charles Dee Mitchell.
February 28: The closing evening event in the MAC's galleries, curated by Carolyn Sortor.
Included in the program: "…an evening of film performances by Roger Beebe at Centraltrak on Monday, January 26th at 7:30 p.m."
For more info on the organizers, schedule, curators, works included (and an updating list of works to be included) in the Medianale, please go here.