I went to the opening of a group show called "Sundowner" on Saturday night in Dallas. About half the artists were locals who have been pretty active on the scene lately— Gregory Ruppe, Jesse Morgan Barnett, Jeff Gibbons, C.J. Davis, Pierre Krause and Kris Pierce—and the other half were international artists who had been invited by the local artists to participate. It was in a still-newish commercial gallery in the Design District called Circuit 12, which has in its short history seemed open to approaches by outside groups for show proposals.
This is not a review of the show, or the venue. But through conversation and observation that night it was easy to assume that the DFW artists who organized the show, and Circuit 12's owners Gina and Dustin Orlando, are not invested in one another for the long haul; this show is a one-off and everyone involved seems comfortable with that.
Given the experimental and non-commercial nature of much of the work, I can't imagine much of it could sell. My sense was that Circuit 12's location and space were completely beside the point of the show itself. The artists needed a venue, and these artists in particular have proven resourceful; "Sundowner" could have been installed in a warehouse, a storefront, an artist's studio, even a house. I don't know how viable a model it is for this gallery to turn itself into an alternative non-profit (that would depend on how well it could sell its more commercial shows at other times, or whether it cleans up at art fairs), but I do know that having these names show in its space is good for Circuit 12's street cred, and that a certain doggedness and opportunism by younger artists is becoming the norm around here.
I'm considering this trend even more closely following last week's announcement that the well-financed international ArtPrize is expanding into Dallas for 2016, and that major event will likely require close to 200 novel/alternative/unconventional venues to show all the entries, and they're all meant to be within a three-mile radius of downtown Dallas. Artists from dozens of countries and most of the U.S.'s 50 states will converge on Dallas that spring—they're each responsible for finding a 19-day home for their work for the duration of the event. The literature for ArtPrize claims that in its sixth year, in its originating city of Grand Rapids, Michigan, the 2014 iteration (beyond occupying the expected museums and commercial galleries) took place in "bars, coffee shops, stores, hotel lobbies, public parks, bridges, laundromats, and auto body shops."
Dallas is more than five times the size of Grand Rapids, and has plenty of these kinds of spaces in and near downtown. If you map a three-mile radius using the Arts District as its center, the area encompasses Deep Ellum, Fair Park, the Cedars, Bishop Arts, the Design District, Trinity Groves, Oak Lawn, Lower Greenville, and then some. These are the neighborhoods our artists deal with anyway; I'm not worried about lack of venues. Overall, the great ArtPrize Dallas venue hunt of 2016 will just be a larger echo of what's been happening here for more than five years: Deep Ellum Windows,the Dallas Biennial, Aurora, etc.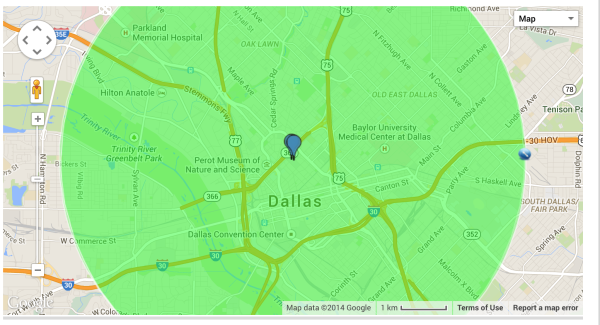 In fact, it feels more and more like the old-guard gallery system in Dallas, with a few exceptions, is not that interesting to artists like Ruppe and Barnett, et al. I don't hear this generation of artists waxing over which Dallas or Fort Worth gallery they'd really like to show with or be represented by longterm, and I don't see many of the established Dallas galleries taking financial risks around their kind of artwork, post-recession.
In older cities and art markets, the status quo for decades has been that commercial galleries, beyond just marketing and selling, give context, stability, and credibility to the work and artists. As the expectations of graduating artists (who are coming out in a flood these days) shift in a new economy, and as traditional  hierarchies dissolve in the digital and social-media age, I'm not feeling the commercial spaces keeping up with these shifts, because it doesn't jibe with their business model. If anything, the populations of most Texas cities, along with the populations of artists, are increasing, but the number of more traditional galleries with traditional business models feels stagnant. In Dallas, the number of conventional galleries is just now recovering from its post-recession losses. Collectors are still conservative, by and large, and these galleries aren't interested in losing them. A place like Circuit 12, however, reflects the youth of its owners (mid-20s), who have what seems like an obligatory built-in flexibility, albeit at the expense of stability. This rangier business model is related to the experience of artists of the same generation and region.
Correct me if I'm wrong, but much of what I'm writing here could apply to Houston, in part (though Houston has seemed more gallery-grounded than Dallas all along) and it certainly applies to Austin, which has always struggled to establish a gallery system, and San Antonio, too, which is in an exciting kind of art growth spurt of its own.
It used to be that the galleries "broke" the new artists, like record labels broke music performers. And generally the natural procession was that the artists are out in front of all trends, followed closely by the galleries that capture that energy and commercialize it for their collectors, followed by the museums who solidify the artists' legacies. These old pathways are being tested and reshaped daily in this weird economy, locally and otherwise.
The slippage in the old system is perhaps more pronounced in newer, entrepreneurial cities like Dallas, anyway: Dallas never really got its gallery scene on the international map, despite the various galleries trooping off to the art fairs in Miami and New York every year. The established galleries here are diligent, curatorial, and respectable. They're not known for taking crazy risks. Why would they?
I'd like to hear from both artists and gallerists about how their traditional partnerships are changing, evolving or dissolving, or how many new grads are gunning for traditional gallery shows anymore. We don't know what the Texas art market will look like even five years from now, let alone ten or twenty, and maybe this is for the best. For the moment, all I can report on is what I'm seeing and feeling in Dallas, which is that 1) "Sundowner" artists and Circuit 12 are engaged in kind of consensual artist-gallery one-night stand; 2) Dallas artists are getting good at this kind of arrangement, and 3) the ArtPrize will solidify this kind of hookup culture in the region. I have no problem with this.
(Edited to add Pierre Krause to the list of local artists' names in the first paragraph.)