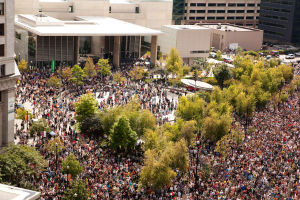 ArtPrize, the high-profile organization and event founded by web entrepreneur Rick DeVos and launched five years ago in Grand Rapids, Mich., is the contemporary art competition in which the public can bestow up to $200,000 in prize money to winning artists, and another $200,000 is awarded by a jury of art professionals. Total prize money has reached $560,000. ArtPrize announced today that it is expanding into Dallas.
For an agreed-upon three years, starting April 2016, "Invited artists from around the world will show works over several days in galleries, stores, coffee shops, public plazas, parks and other unconventional locations," (via NYTimes). The money is generated locally, by businesses, grants, and private sources, and, like a sort of mini-art Olympics, the publicity and tourism around the event has generated millions of dollars for Grand Rapids. (We're talking $22 million in 2013 alone.)
Other cities have shown interest in hosting ArtPrize, but Dallas is the first outside Grand Rapids to formalize the arrangement. The most recent ArtPrize awarded in Grand Rapids a month ago generated nearly 400,000 public votes and awarded the $200,000 public prize to Anila Quayyum Agha, "an artist born in Pakistan and educated in Texas." Sonya Clark, an artist from Virgina, won the jury prize.
Ariel Saldivar will serve as the Executive Director of ArtPrize Dallas.