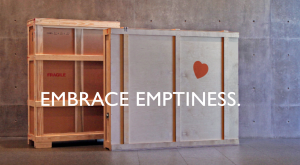 Good art shipping crates and travel frames are incredibly expensive to have made by professional art handling services; they're bulky, made to stand up to rough shipping conditions, and can be nearly as beautiful as furniture. Dumping them after one journey can be heartbreaking. For many galleries and artists, chopping them up to recycle the wood just isn't viable.
Marty Walker, formerly of Marty Walker Gallery in Dallas, has been brewing a great idea for a while, and now it's launched. Lonely Crates is an art-crate-matching service: now some of those high-end art shipping crates that would otherwise be junked after one use can find new users.  The site is clear and looks like it'll be easy to use. If you want to sell your crates, list them; if you're looking for a crate for shipping or storing artwork, type in the specs. The site matches you up (including by zip code), like online dating! Since crates are originally built for specific works, it might mean a new user needs to tweak a bit, like add a bit of extra padding or foam, but otherwise they should be good to go. The new user makes an offer, and will ideally pay a fraction of the original build price.
I don't know of any other company offering this exact kind of as-needed service, and I'd like to see it not only take off, but become the norm in the art world. It's green, smart, and economical, and struggling artists, galleries, regional museums and the like can save a ton of cash, or even make a little on the side.