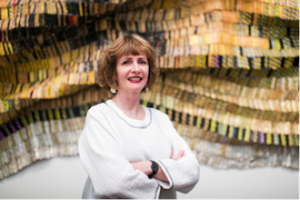 Annette Carlozzi, longtime curator at the Blanton Museum of Art at the University of Texas in Austin, is retiring in December after 18 years on the job. For the Blanton Carlozzi has been Curator at Large, Curator of American and Contemporary Art, and Director of Curatorial Affairs. Among other things, according to the Blanton, Carlozzi "…has played a leading role in key museum initiatives, organized many innovative and game-changing exhibitions, and overseen the acquisition of works by internationally recognized artists (Anselm Keifer, Bill Viola, Teresita Fernandez, Byron Kim…) that are now counted among our visitor favorites."
Carlozzi joined the Blanton in 1996, and prior to that she served as Visual Arts Producer for the Olympic Games in Atlanta as well as director for the Contemporary Arts Center, New Orleans and the Aspen Art Museum, and curator at Laguna Gloria Art Museum in Austin.
Please watch this space for updates as the Blanton releases its official press release on the subject.
Update 11/20: from today's press release which is not yet posted to the Blanton's website:
"From 1996–2012, Carlozzi played a critical role in building, interpreting, and publishing the Blanton's modern and contemporary art collection. Some of her notable acquisitions include Anselm Kiefer's Sternenfall, Richard Long's Summer Circle, and Louise Nevelson's Dawn's Presence – Two Columns. With an eye for new talent and the support of museum patrons, she sought out cutting-edge works by younger artists now considered contemporary masters, including Terry Adkins, Anne Chu, Trenton Doyle Hancock, Cao Fei, Ellen Gallagher, Rachel Harrison, Emily Jacir, Glenn Ligon, Dario Robleto, and Amy Sillman. She also added works to the collection by such respected figures as Vito Acconci, Celia Alvarez Muñoz, Charles Gaines, Luis Jiménez, Lee Lozano, Bill Lundberg, Ana Mendieta, David Novros, David Reed, and George Sugarman, among others… . When the Blanton's new building opened in 2006, she co-curated with her then-colleague and curator of Latin American art, Gabriel Perez-Barreiro, New Now Next, a wide-ranging survey of recent contemporary acquisitions, and America/Americas, an integrated display of Latin American and American modernism that reflects the shared affinities among twentieth-century North and South American art; it was the first major collection installation of its kind in any U.S. art museum."
And:
"Other acclaimed Blanton exhibitions curated by Carlozzi include Negotiating Small Truths (1999); Cartoon Noir (2002) and Transgressive Women (2003); Paul Chan: Present Tense (2006), Mike's World (2007), Desire (2010); and more recently, the monumental Through the Eyes of Texas: Masterworks from Alumni Collections (2013) and the innovative multimedia project, Perception Unfolds: Looking at Deborah Hay's Dance (2014), currently on view at the Yale School of Art. Carlozzi brought memorable traveling exhibitions to Austin as well, includingBirth of the Cool: California Art, Design, and Culture at Midcentury (2009) and El Anatsui: When I Last Wrote to You About Africa (2012). And from 2006–2011, Carlozzi spearheaded the Blanton's project series, WorkSpace, which provided the curatorial staff with opportunities to present new developments in the field; the series included her own provocative projects with artists Matthew Day Jackson and Jim Drain, as well as In Katrina's Wake, which chronicled the leadership efforts of the New Orleans artist community in the aftermath of disaster.
"Carlozzi's research has been featured in numerous Blanton publications, including the comprehensive collection catalogue, American Art Since 1900, and the handbooks, Guide to the Collection and 110 Favorites from the Collection. She has also published widely outside the Blanton. In the 1980s, she wrote Fifty Texas Artists (Chronicle Books, 1986), considered a definitive survey at that time, and she will be returning to her early career research on region and place for her next project:  a volume surveying the artistic achievements, cultural patronage, and institution building of the modern and contemporary Texas art scene that will be released as part of the forthcoming series from University of Texas Press, 'The Texas Bookshelf.'"