At the opening of Houston Center for Contemporary Craft's CraftTexas 2014, the eighth in a series of biennial juried exhibitions showcasing the best in Texas-made contemporary craft, the exhibition jurors awarded three artists (Jim Keller, Ana Lopez, and Olivia Neal) Awards of Merit, which included a $1,000 cash prize to each. Of the 44 artists included in the exhibition, Roy Hanscom and Caitie Sellers were also given honorable mentions. Congratulations to all!
To check out the show and congratulate at least one of the award winners, drop by the gallery talk and artist chat with Heidi Gerstacker and Caitie Sellers this Saturday at noon.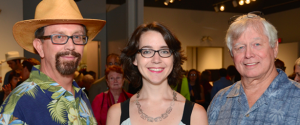 Photos: (Top image) Attic Turbine Vent (Shoulder Brooch) by Ana Lopez, 5 Layer Lidded Form by Roy Hanscom, Houston Necklace (detail) by Caitie Sellers, Tropophobia (detail) by Olivia Neal, Bastrop 2011 by Jim Keller. (Lower image) Roy Hanscom, Caitie Sellers, and Jim Keller at CraftTexas 2014 opening reception. Photo by Roswitha Vogler.