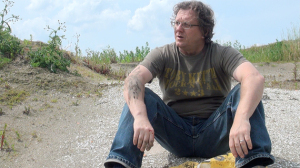 ArtPrize, the international art competition based in Grand Rapids, Michigan, announced its juror's shortlist yesterday, selecting twenty artists from the 1,536 entrants. Darryl Lauster, selected for his installation God Bless America, is the only Texas artist on the list.
Jurors will award $200,000 to the Grand Prize winner and $20,000 in each of four categories (2-D, 3-D, time-based, and installation). The same prize amounts and categories will also be decided by public vote, for a total of $560,000 in awards. An artist could potentially both a public vote and juried prize.
Round 1 public voting has begun and will continue through October 4, so go to the ArtPrize site and register to vote!
(Image: Lauster in video still from Prone, Episode One: The Landing)