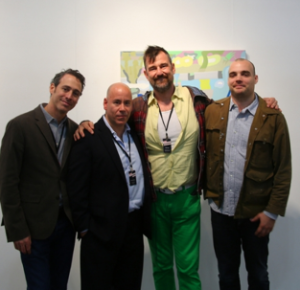 Today marks the beginning of this year's Texas Contemporary art fair at Houston's George R. Brown Convention Center. For the fancy folks who shell out $100 for a preview pass, the party starts at 6pm and that first hour and a half benefits the Contemporary Arts Museum Houston (CAMH). CAMH Director Bill Arning, along with Anne Ellegood, Senior Curator of the Hammer Museum, Los Angeles, will serve as this year's jury of the Texas Contemporary Award, a cash prize of $10,000 bestowed to one exhibitor-nominated artist.
The rest of the schmoozers will start pouring in after 7:30pm (if you really can't find a pass, tickets are $25-35). And there are some pretty good reasons for returning throughout the rest of the weekend (besides never actually looking at much art during an opening). Among other events, there will be the following three Glasstire Talks in the lecture hall:
Saturday, 11am
A Conversation with Hugh Forrest, Director of SXSW Interactive
Over the past 20 years, Forrest has built SXSW Interactive into one of the world's most influential events for the new media industry. Join Glasstire Founder and Publisher Rainey Knudson for a conversation with Forrest about the history and future of the festival.
Saturday, 1pm
How To Get Rid of the Art You Don't Want Anymore
Pick up some helpful hints from panelists Sandy Parkerson (Parkerson Gallery), Jessica Phifer (Christie's), Michelle White (Curator, Menil Collection). Moderated by Glasstire Senior Texas Editor Christina Rees.
Sunday 1:30pm
American Tycoons: What They've Bought and Why
Art consultants Julie Kinzelman and Sally Reynolds highlight some of the great corporate collections from the 1960s to the present, in Houston and elsewhere.
(Photo: Texas Contemporary 2013 with Jeffrey Wainhause, Andrew Freiser, Bill Arning, and Max Fishko)