The plain sign and building at 3606 Bissonnet near the West University neighborhood of Houston wouldn't lead anyone to believe that the Cleburne Cafeteria is a storied, independent business, that it's been one of the best cafeterias in town since the 1950s, or that it contains a personal museum celebrating an interwoven history of family, community, food, art, and memory.
Photography
A long wall leading from the entrance to the cafeteria's food counter dons a dozen or so framed, black and white photographs. If not passed over in a rush to the food, these provide nice glimpses of the spirit and history of the place, with restaurateur and amateur artist Nick Mickelis at the center of both. A young Mickelis came to Houston from Patmos, Greece in 1948. He is seen in most of the photos alongside family, friends, employees, customers, and his paintings on walls and canvases. He bought the Cleburne Cafeteria in 1952—then located in a funky, brick building on Cleburne Street at Fannin (just south of the intersection of Main and Alabama, next door to where DiverseWorks is now.) Those who visited the old Cleburne in the 1950s and 60s remember the unique, theatrical interior and lively atmosphere as much as the food. Shown below, the inside evoked a sort of fictional European exterior with arches, awnings, street lights, a dark blue ceiling with painted silver stars, and–get this–actual trees coming through the floor of the dining room that supported the building's 2nd story, where Nick and his wife Pat lived and raised their two children. These photos, likely taken by Pat Mickelis, comprise the historic record of the glorious early years of the restaurant—in a different place and time.



Paintings
The walls of the Cleburne's dining rooms convey a more personal, layered memory at the heart of the family business. The dining rooms act as galleries for large, framed paintings made by Nick Mickelis between the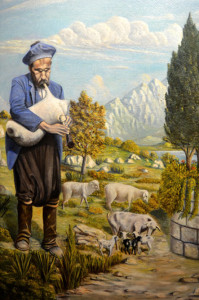 1950s and 80s (he passed away in 1989). Art was a lifelong passion for Nick—an expression of personal identity that he always brought to the Cleburne and to his family. The work is largely inspired by recollections of his childhood in Greece. Nick's painted memories of a far away home and youth now act as a remembrance of the man—for his family (including his son George, who has run the cafeteria since his father's passing), as well as for long-time employees and customers. But honestly, even for the visitor with no back-story or personal connection, these numerous large, hand-crafted visions are both pleasant décor and evocative of more. It's nice to eat while looking at a large painting of a ship at sea, or of a Greek farmer in the countryside.


Sculpture
I'll point out one other area of aesthetic interest at the Cleburne Cafeteria: the gallery of colors, textures, and shapes at their food counter's dessert section. This display of contemporary (made fresh daily) and ephemeral (eaten fresh daily) sculptures is a thing of beauty. Even if one doesn't have the sweet tooth or empty stomach for a gargantuan dessert, the sight of this counter makes eyes pop and mouths water. Perhaps that moment of simultaneous childlike excitement and home comfort reveals what has fed and has been served by the Cleburne for over a half-century.