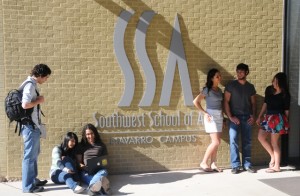 Fall Semester classes begin on August 25 at The Southwest School of Art in San Antonio, but this year is different: the inaugural class of 22 BFA students begin their four year program with classes in Visual Literacy, English Composition, Art History Survey 1, and Drawing.
The much anticipated new degree program has had a rocky start; overeager advertising earned them a delay from the Texas Higher Education Coordinating Board last year, but the program is now on track to graduate it's first BFAs in the spring of 2018.
The program is tiny, accepting only 20-25 students each year for the first four years. Students will earn a Bachelor of Fine Arts degree in one of six studio areas: ceramics, drawing and painting, metals, photography, printmaking or sculpture and integrated media. A seventh area, Fibers, will be added in 2017. The Southwest School of Art is the only independent art college in Texas. Originally the site of the Ursuline Convent and Academy, the city's first school for girls established in 1851, the school was founded in 1965 and will celebrate its 50th anniversary next year.