After half the summer, I finally saw all the sculptures that make up True North, the inaugural show of temporary public art along the Heights Boulevard esplanade in Houston. There didn't seem to be any urgency to it, and that's part of its charm. I live in the neighborhood, and had already passed and re-passed each of the pieces dozens of times before I set out to photograph and write about them.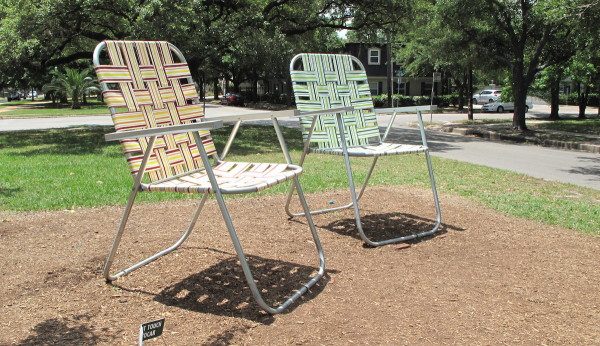 Paul Kittelson's Lawn Chairs, however, made me pull over the first time I saw them. Nothing could be more obvious, or more perfect for a temporary summer show. Two giant folding chairs, like your parents had on their patio, refer to the ephemerality of the show; like real lawn chairs, the pieces can literally be folded flat and put away for another fine day. And they capture the hyper-local backyard barbecue flavor of this grassroots public art effort. They inspire a jolt of glee in kids, and a jolt of return-to-childhood glee in adults who recollect a time when lawn chairs really seemed this big. Perfectly fitted for the time, place and audience, Lawn Chairs has ten times the stopping power of other pieces in the show, proving that site-specificity isn't just an ideological mantra: pieces that relate to their locations really are more powerful.
Dan Havel's sinking church/coop, titled Wildlife Sanctuary, latches onto neighborhood concerns about historic preservation and foundation repair. Houston Heights is an expensive neighborhood where the funky, termite-eaten bungalows that housed some of Houston's best artists in the 80s and 90s have been renovated into pricey historic homes. Although its stance vis-a-vis Christianity and wildlife is murky, Havel's piece regrets the loss of those old buildings, and the "pigeons" who lived in them.
Patrick Medrano's From the Hood to The Heights is likewise murky, but continues the surreal house theme, combining a Viking longship with a cartoon bank or brownstone.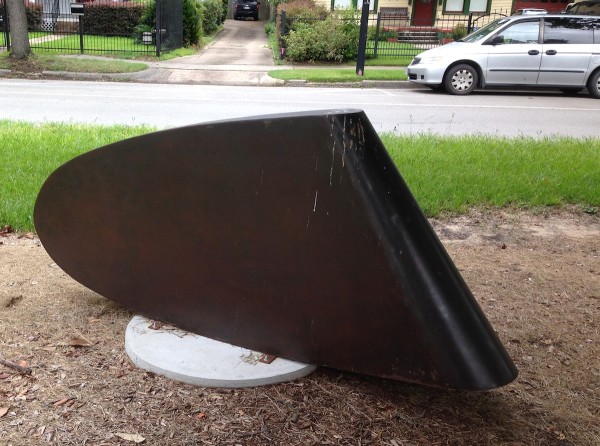 The streamlined shape and impeccable patina of Steve Murphy's minimal There Are Things You Can't Get From Books works better here than in a gallery: perched by the roadside, it has the admirable polish of a car fender, even if its exposed anchor pad makes it look as if it's waiting for a bus back to a museum sculpture garden. Birds, unfortunately, love it, and it's a piece where every little dribble shows.
Ed Wilson's Folded Plane is a tour-de-force of metalcraft, but it would have been funnier painted white.
The show is dedicated to artist Lee Littlefield, who died in 2013. Littlefield's Cypress Flower (2010) is a steel replica of one of his once-ubiquitous wooden pieces made from carved and painted tree limbs. For years, Littlefield pursued a guerrilla practice in Houston, placing dozens (hundreds?) of his "pop-up" pieces anywhere he saw fit, and leaving them to their fates.
Carter Ernst's Pointing North is a big lumpy dog made from resin-impregnated clothing. What's not to like?
Dean Ruck's Ourglass is a gaudy Christmas tree ornament. Hundreds of cosmetic-sized mirrors on steel stalks invites viewers to preen. Shaped a little like an exclamation point, the piece seems more excited about itself than I was about it.
The show was organized by Gus Kopriva, proprietor of Redbud Gallery and co-curated by mosaic artist Chris Silkwood. Unlike the current multimillion-dollar Art in the Park program celebrating the centennial of Houston's Hermann Park, it's a grassroots effort, showcasing work by well-known local artists, many of who are former or current Heights residents. Despite the drastic disparity in budget, the works in the two shows have similar success rates, and succumb to similar pitfalls.
For example, Yvonne Domenge's Wind Waves, placed in the traffic circle across from the Museum of Natural Science as part of Art in the Park, is an arbitrary bauble, just like True North pieces by Lee Littlefield, Dean Ruck, Ed Wilson and Steve Murphy; but Wind Waves cost too much to be funny, making it less forgivable.
Normally, Houston's esplanades are winding islands of no-man's land, landscaped and maintained here and there by civic associations, or just mowed flat by city maintenance crews. It's rare to see even a gazebo: esplanades are city property, and artworks placed on them must carry liability insurance, must meet safety standards enforced by the Department of Public Works and maintenance standards set by the Parks Department, even before they surmount hurdles of funding, and maybe (hopefully) artistic quality. No wonder nobody does it. Until now.
Patrick Renner's Funnel Tunnel, installed last year on the Montrose Boulevard esplanade across from the Art League Houston has been a big hit. Cars honk as they pass, pedestrians endanger themselves crossing the street for a closer look, but the piece's long-term significance may be more in administration than artistic content. Renner's colorful landmark was the fruit of an experiment in process-building between Houston Public Works, The Houston Parks Department, The Art League, and the artist, aimed at blazing what Art League Director Michael Peranteau called "a roadmap for other people" through city bureaucracy.
It has had a quick payoff. Following the Art League's map, Kopriva was able to pull together approvals for True North from the Houston's Parks Department, and Public Works Department, and a $10,000 City's Initiative Grant through the Houston Arts Alliance to help pay the artists. True North was itself a try-out: Kopriva envisions expanding the show into a citywide biennial of temporary public art.
Of course, the magic is in the word "temporary." True North and Funnel Tunnel circumvent the ossifying bureaucracy dedicated to the commissioning of permanent public art. Over the past twenty years, percent-for-art programs like Houston's have given rise to mushrooming administrative costs and platoons of public arts administrators, who manage a new breed of public art providers, sometimes genuine artists, who can design, fabricate, and install artworks with reliable organization and competent administration few studio artists can match. That the artworks produced through this process are predictable and  generic  is a strength, not a weakness, in the eyes of bureaucrats whose first goal is to spend their budgets responsibly, avoiding the messy, damaging imbroglios that individualistic public art so abundantly fosters.
The pieces in True North are all aimed at pleasing regular folks out for a jog or on their way to Walgreens. Even in the absence of bureaucratic overlords, these artists have all internalized the existential need for public art to be inoffensive. The best of them, like Kittelson's chairs, Havel's church, or Carter Ernst's big dog, conjure comforting images and widely shared values. Pieces like Lee Littlefield's Cypress Flower and Steve Murphy's lozenge settle for pleasing forms and surfaces. Dean Ruck's Ourglass and Ed Wilson's Folded Plane please through gee-whiz gimmickry. True North shows that Houston's public artists are indeed as good, and as bad, as their internationally recognized peers. If the works aren't too challenging, they make up for it with humor and genuine goodwill towards the neighborhood they inhabit that international big-budget shows like Art in the Park can't match.
True North will be on view through November 4, 2014 on the Heights Boulevard esplanade between 4th and 18th streets in Houston. The show's 24-page catalog can be read or printed on demand at bookemon.com.