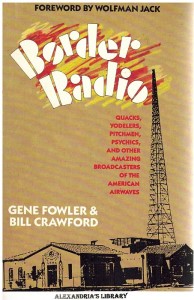 If you're in North or Central Texas, mark your calendar for August 22: The always-cool Old Jail Art Center in Albany is hosting journalist-performer Gene Fowler as part of its ongoing Focus Lecture Series. Fowler is the Austin-based author of the beloved 1988 book "Border Radio: Quacks, Yodelers, Pitchmen, Psychics, and Other Amazing Broadcasters of the American Airwaves." Fowler will make what will likely be an unusual presentation about the type of culture-jamming "borderblaster" radio stations that enjoyed a heyday along the Texas-Mexico border from the 1930s to the 1980s, and he'll tie it in to the narcocorrido culture.
This event compliments the Old Jail's three current the exhibitions, which you should check out as well: artists Camp Bosworth, Allison V. Smith, and Ken Little each present an angle on West Texas and border culture.
The Fowler presentation begins at 6:30 p.m. on August 22 in the Old Jail's Stasney Center for Education. The event is free and open to the public, but you can call 365-762-2269 or email [email protected] to reserve your seat.