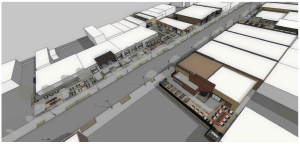 The stretch of 100-year-old empty storefront spaces in Dallas where artists Justin Ginsberg and Jeff Gibbons staged their pop-up art installation programming for two seasons in 2013-14, called Deep Ellum Windows, is about to start undergoing its big makeover if all goes well.
Late last month Deep Ellum developer Scott Rohrman, who let Ginsberg and Gibbons use the spaces, unveiled his proposal for the section of Main Street he owns, and it looks good from here.
Rohrman owns more than two dozen buildings and half as many parking lots along the street, and the Urban Design Peer Review Panel took a look at his master plan for the area on July 25. According to Robert Wilonsky at the Dallas Morning News (and Rohrman as well): "Rohrman, under the auspices of his 42 Real Estate, …[has] a master plan intended to create 'a truly "mixed-use" project integrating a diverse, mutually supportive combination of urban uses that include local/micro-retail, restaurants, services, walkway and seating into one continuous public realm to be used throughout all times of day and evening.'" By our eyes, this is by far the best-looking, most functional and culture-friendly plan we've seen for the crucial section of Main Street between Good-Latimer and Crowdus. The historic storefronts are part of the plan.
Rohrman, in the run-up to this proposal, was one of the rare Dallas owner-developers to work with artists on making good use of empty urban space, and he picked the right guys to trust with his buildings. Deep Ellum Windows was a successful part of Dallas' latest art renaissance, and while Rohrman hasn't specified what kinds of businesses he expects to take root in the development, we think galleries and art-related non-profits would be attracted to the area after the popular reception and healthy crowds of Deep Ellum Windows.
In the meantime, Rohrman and Deep Ellum watchers will wait to see if the city will grant his plan tax increment financing, which would help move things along. It's possible that big parts of the proposal along Main will be realized within about 18 months.
(photo courtesy 42 Real Estate/Droese Raney Architecture and the Dallas Morning News)