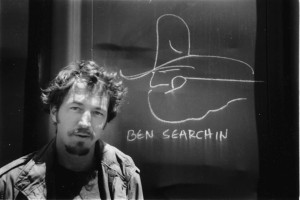 This Sunday at 7 pm, the Alamo Drafthouse in Richardson will host artist Bill Daniel for a screening of his 2005 art-film-cum-documentary "Who is Bozo Texino?", which is a black-and-white meditation on the hobo train-hopping graffiti artists of the past century. (Note: hobo graffiti is its own tradition and not to be confused with today's urban tagging.) The Drafthouse will also show clips and photographs from Daniel's upcoming publication, "Tracking Down the Texas Punk Problem," a photo-essay book of the Austin and Texas punk scene in the early '80s, which he was very much a part of.
Following the screening is a Q & A discussion with Daniel titled "North Dallas teen alienation and resultant cultural pushback." That title alone is worth the trip.
Daniel, a Dallas native and graduate of UT Austin, is a Guggenheim Fellow and film-festival veteran. He's shown internationally while documenting some of the most overlooked and compelling subcultures in Texas. (After a long stint on the West Coast, he's currently based in Pasadena, Texas.) This should be an interesting evening at the Alamo, and if that's still not enough to get you out on a hot Sunday night, the Alamo will screen a bonus 16mm print of a vintage Butthole Surfers short made by Daniel. Boom! Be there or be square.
BILL DANIEL: TEXAS PUNK, GRAFFITI TRAMP, RHS '77!
Alamo Drafthouse Richardson, Sunday July 27 at 7 p.m.
Note: 18 and up; kids 13 and up will be allowed only with a parent/guardian. No children under 13 admitted.
(photo: Alamo Drafthouse)