High on the Sierra Nevada de Santa Marta mountains of Columbia there is an indigenous tribe called the Kogi. Stories reveal that when a child was born to the tribe, he spent his first years of life in a cave with little light and food; just enough food to remain healthy and enough light to keep his eyes from blindness. As the child grew, elders would come into the cave and teach him about the world. All of the child's understandings of the earth outside the cave were conceptual. One day, when the child was ready, they would take him out of the cave and into the light. Once outside, the child would be forever in awe by the reality of a world he had only understood in his mind.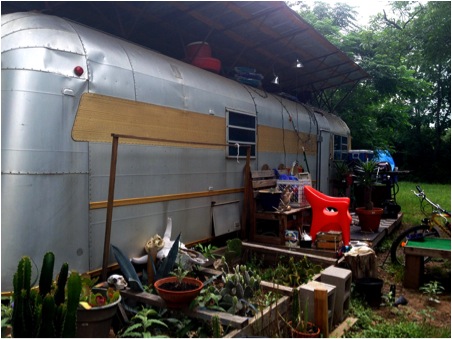 Jules Buck Jones' Airstream in East Austin may not be a mystic cave of the ancients, but it keeps him close to the natural world just outside his aluminum walls. With the closing of Toy Joy on Guadalupe, a new glut of overpriced juice bars, and a surprising lack of native diversity, Austin is not always the Namaste Mecca it wants to believe it is, but Jules still embodies what "Keep Austin Weird" may have meant long ago. Genuine and completely enthralled by his practice, Jones is a colorfully dressed beacon in the sea of beige cargo shorts and flip-flops that overtakes Austin in the summertime.
I first met Jules when he was my TA in Hana Hillerova's drawing class at UT Austin. One of my best memories of that class was a trip with him to the natural science center next door to the art building. Between the T. Rex and a 200 lb. meteorite, I glanced over at Jules and saw a look of awe fall across his face. In that moment, I realized that he really was in love with the natural world.
In his studio, Jules has been thinking a lot about the mystical nature of the forest. "While spending time in the rain forests of Nicaragua and Costa Rica, I was looking through all of the leaves and trees in the jungle and I felt like there was also something looking back at me," he said. In his newest works, animal forms arise out of dense jungle scenes. These paintings resemble stained glass windows where stories unfold.
Jules has also been reading Lucretius' On the Nature of Things, in which the Roman scientist looked beyond divinity to explain the natural world using a hybrid of poetic language and scientific reasoning, just as Jones' works are based in the science of biology but channel a mystic other. "I can watch a David Attenborough film and I'm blown away by it every time," he said, going on to explain how the animals he depicts are vehicles for self-reflection and symbols of the wild within human nature.
With a few other artists, Jones started a small studio collective on the East Side of town in the Monofonous Press Compound, in what used to be an old warehouse used by punk and noise bands. The compound is a sprawling communal space with chickens pecking under a large trampoline and cats batting at butterflies in the sun. It's a respite from the frantic hipster cool burdening inner Austin; here under the oppressive summer sun Jules' airstream glimmers like a Quentin Tarantino mirage.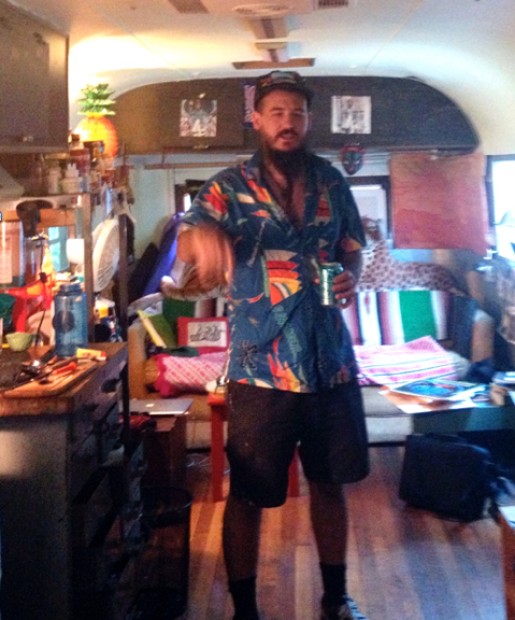 Together with his girlfriend, animal behaviorist Audrey Stewart, Jones has applied for a City of Austin grant to create a mobile theatre where the couple would dress up as endangered species and put on skits for local schoolchildren. He is also involved in the Animal Facts Club, a group of enthusiasts who create a calendar each year based on their research of local wildlife. The calendar proceeds go to the Austin wildlife rescue.
Inside his trailer full of animals, masks, and souvenirs from far away lands, there isn't much headroom for most tall Texans, but Jules and I were just fine. With his tropical shirt glowing, Jones really embodies a little bit of what keeps Austin weird, and a pretty chill guy who started his art career around age six drawing giant sharks with otter tails. He said, "If art school taught me anything, it was to pay attention to what actually thrills you about the world."