A sense of childhood whimsy runs throughout Sergio Garcia's show at Kirk Hopper Fine Arts in Dallas. Bubbles, infinity signs, hearts and tricycles repeatedly become focal points in the gallery space. These types of loaded images run the risk of tanking a body of work under the weight of their prior associations (as they did in Rosalyn Bodycomb's recent installation at Conduit), but Garcia's show avoids this problem because everything plays off kids' interests and oversaturated idyllic scenarios gone haywire. Somewhere between the sickeningly kitsch and the slightly creepy, this show finds a middle ground that merges childish diversions with technical fluency.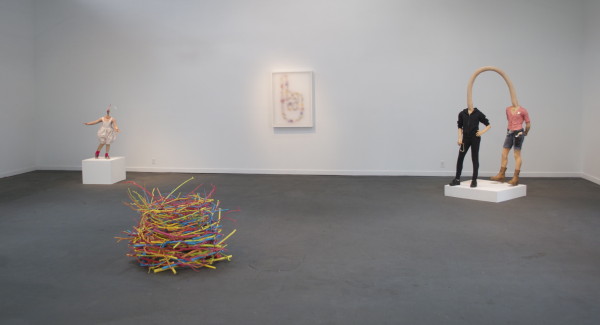 The show is broken up into different types of works, all loosely related. The tricycles are probably Garcia's most identifiable works; straightforward and successful, they are altered to include symbols like hearts and infinity signs, rendering them nonfunctional. These works create a playful relation between a child's trike and symbols often drawn by children. The campy pairing isn't conceptually dense, but charmingly simplistic, in keeping with the childhood references.
These symbols continue in works that display artificial flowers inside frosted shadow boxes. There is a certain humor in having an infinity sign composed of flowers that will never decompose, but there is more to this work than a visual pun. The artificial flowers underline this fabricated facade that seems to permeate throughout the show. The frames give the flowers a newfound importance but the display is clouded. These shadow boxes are not Garcia's most successful works, but in context of the rest of the show, they act as simple, consistent fillers.
Garcia's figural work underscores this uncomfortable tension between twisted idealism and disturbing oddities. If these walls could talk, they'd probably do this instead is a series of hands protruding from the wall, each holding a bubble wand with a bubble, frozen half-blown. Executed with an impressive technical skill, the series keeps with the humorous aspect of Garcia's work: why speak when the walls could blow bubbles?
A sculpture of a small girl entitled No time to slow down, whose head has been replaced by another bubble-blowing hand is like a cross between a surrealist nightmare and an equally fabricated 1950s manikin display. The result is an unsettlingly funny vision that looks convincingly realistic while being as phony as Garcia's artificial flowers.
The final piece in the show is a collaboration between Garcia, Richard Ross, and Mark Nelson: a multi-colored construction called The Nest. Located in the center of the space, this nest looks like the love child of Andy Goldsworthy and Fisher Price and is a fitting central work for a show about childhood and artifice.
It's Like the Beginning of That One Song struggles with occasional conceptual dead ends and moments of opacity that might leave some viewers scratching their heads but, as a whole, deserves attention. Defusing criticisms about shallow concepts with images of childhood simplicity shows Garcia's awareness of his subject matter. This is not a rigorous investigation of childhood, but a lighthearted exploration of youthful diversions through the eyes of a grown artist: often playful, sometimes unsettling, but consistently interesting.
Sergio Garcia: It's Like the Beginning of That One Song will be on view at Kirk Hopper Fine Art from May 31- July 5, 2014.