"His ball gowns look like furniture and his furniture looks like ball gowns" quipped one Texas socialite upon observing the creations of fashion designer Charles James (1906-1978). In viewing the Menil Collection's  exhibition "Charles James: A Thin Wall of Air," you see what that unnamed woman (quoted in the Menil's exhibition brochure) meant. James' gowns had bustles and exaggerated hips. His jackets angled outward dramatically. His collars were origami-like structures. Meanwhile, his furniture echoed the curves of a feminine body. James is generally considered America's first couturier. The European designer Balenciaga said James was "the only one in the world who has raised dressmaking from an applied art to a pure art."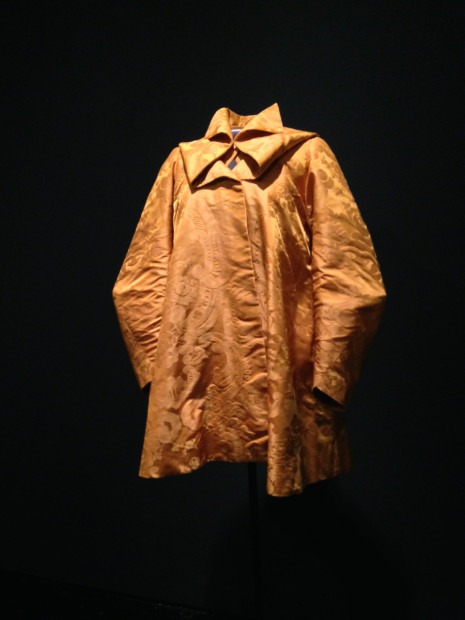 The Metropolitan Museum of Art in New York has a major Charles James retrospective currently on view, Charles James: Beyond Fashion.  It's got some amazing clothes and the focus is on the technical aspects of James' work; the Met's website promises: "Analytical animations, text, x-rays, and vintage images tell the story of each gown's intricate construction and history."
Fashion exhibitions are not something usually associated with The Menil Collection but this small, thoughtful show makes sense because of the caliber of James' work and his connections with the de Menils. James created clothing for the de Menil family and John and Dominique also turned over the interior design of their Houston home to him. The Menil exhibition treats James' designs as artwork.
James was essentially self-taught. His father was a British military officer and his mother was from a wealthy Chicago family. He left/was kicked out of Harrow for something he described as a "minor escapade." His parents got him a job with Commonwealth Edison in Chicago. He staged a fashion show of batik beach wraps in the office and was promptly transferred to the architecture department. That environment may have given James knowledge put to use in his designs. He left and opened a millinery shop, which was apparently a scandalous thing to do for someone of his socioeconomic class. He would go on to spend a good part of the 1930s in Paris where he designed clothes and hung out with Surrealists like Jean Cocteau and Salvador Dalí.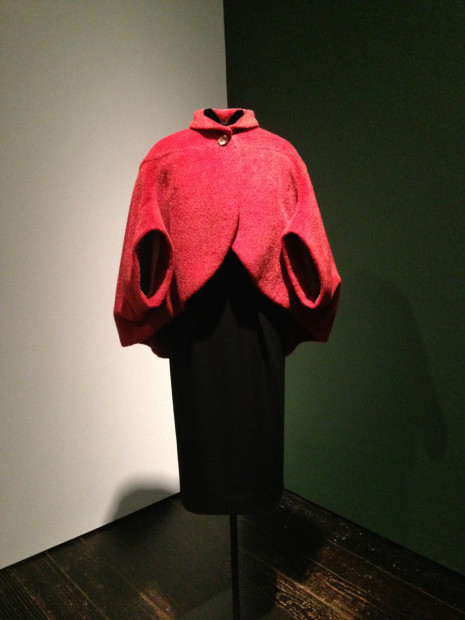 Surrealist sensibilities permeate James' work and are most obvious in the furniture he designed for the de Menil's home. When John and Dominique de Menil chose James to handle the interior of their Phillip Johnson-designed home, it was an interesting, if counter-intuitive move. Not only were the clean lines of Johnson's modernism and James' voluptuous forms very different, James had never designed an interior before. (This would be his first and last interior design commission and Johnson subsequently excluded the de Menil home from surveys of his work.) According to assistant curator Susan Sutton's text in the exhibition brochure, James put rococo antiques in the house and lined hallways with butterscotch and fuchsia felt. Doors were covered in antique velvets. James painted the cabinet doors of Mrs. de Menil's dressing room aqua, gray and blue.  He colored the insides of drawers and the interiors of cabinets in "contrasting colors of butter yellow and olive green." It's as if he treated the home like a giant jewel box. It sounds wonderful.
The curvaceous couch he created for the de Menil home is a riff on Man Ray's floating lip painting Observatory Time: The Lovers. And while he mixed period upholstery colors like saffron yellow and celadon green in his clothing, he created couches covered in a pale flesh-toned fabric which makes their curves look all the more naked. They remind me of Hans Bellmer's dolls but with a slightly less creepy sensuality.
James' work is often characterized as too far ahead of its time. In 1937, he designed an amazing down evening jacket that looks like it could have been made yesterday—or at least in the 80s. He made an A-line dress ten years before the trapeze dress made headlines. It must have been frustrating for James to see things he had already done decades ago heralded as brilliant innovations.
By all accounts James was difficult. His designs weren't about working with the bodies of his clients but sculpturally reshaping them—more the attitude of a fine rather than applied artist. The exhibition includes a dress form custom made to represent James' ideal female body: square shoulders, long waist, curved hips and small, widely spaced breasts that apparently point in two different directions. The form is stenciled with the label, "IDEAL AVERAGE."
James pretty much stopped designing in the 1960s. In 1954, he had married a wealthy divorcée 20 years younger than he was and had two children. It was something of a departure for James, who was gay. Fatherhood also inspired a line of children's clothing. The couple ran through all their money and divorced—but apparently still cared about each other: his ex-wife would work to preserve James' legacy after his death. James' business would go on to litigate and diversify itself into oblivion, leaving him essentially destitute, doing a lot of speed and living at the Chelsea Hotel in New York. He was carried from there by ambulance on September 22, 1978. He reportedly told the EMTs, "It may not mean anything to you, but I am what is popularly regarded as the greatest couturier in the Western world."
He was. James died the next day of pneumonia and heart disease.
A Thin Wall of Air: Charles James is on view at the Menil Collection through September 7.