After centuries of symbolic associations, birds have earned a spot alongside loaded images like hearts, skulls, and the cross. For a contemporary artist to wade into a project that uses any of these in anything but a satirical way is to risk seeming campy and trite. Creating a sincere show that focuses on birds, Rosalyn Bodycomb's current show at Conduit Gallery's project space in Dallas is in dangerous territory.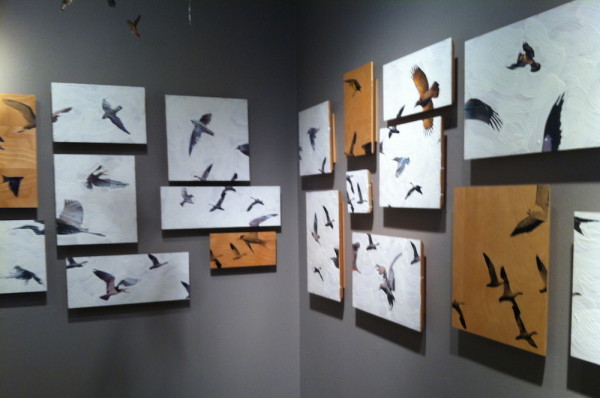 Along the three walls of the small room, a band of fifty-one mixed media paintings depict different types of birds in flight sporadically arranged across different sized panels. Bodycomb constructed the mounts for these panels so that they protrude from the wall, which prompts a sense of floating appropriate to the subject matter. An assortment of bird cutouts hang from mobiles above the viewer, and allude to Calder, but also, in their playfulness, to infant crib mobiles. The final element, an array of bird sounds coupled with percussive beats, reinforces the idea of this space as an aviary, but raises perplexing questions about what the significance of the percussion might be.
Bodycomb has previously demonstrated virtuosity as a painter, though her painting skills have become secondary in this project. In My Aviary Bodycomb is breaking from her more traditional "single canvas against white wall" work in favor of something new. In her statement, Bodycomb refers to this as an attempt to "free painting from the confines of its canvas." She deserves recognition and praise for pushing the safe limits of her art practice, though, as with any foray into new territory, this project has room for improvement.
Bodycomb explains her work two ways; the first links My Aviary to a dream that she had about birds flocking to a light. While no doubt an important impetus for this work, the project has clearly evolved beyond its origins, and this meaning hardly seems important to the current installation (or the viewer thereof). The second explanation, which relinquishes any attempt to elicit some deep intellectual revelation, is that her work is merely an immersive experience. By surrounding visitors with images of birds and incorporating the audio track, the goal is transformation: from gallery to aviary. Unfortunately, where this work starts to break down is in its familiarity.
The panels depicting birds are organized in a clean band around the room hung at eye-level, an arrangement that feels too comfortable. The work aims to transport the participant, but at present, grounds the viewer too much in gallery-mode, preventing any leap into the "transformed beyond." The birds cross into neighboring spaces, not rigidly confined to their individual panels, but fail to elicit the all-consuming, chaotic effect that Bodycomb needs. The birds which hang from the mobiles begin to hint at this chaos, but, ultimately, the work feels too safe. If the goal is to relocate gallery-goers from Conduit to her personal aviary, Bodycomb needs to channel her inner Hitchcock.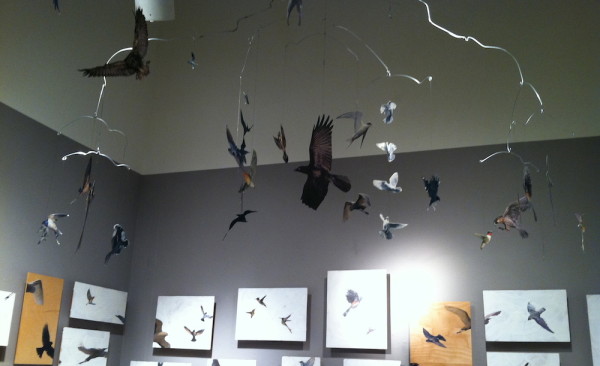 To reintroduce a passé subject without the crutch of irony or impressive technical skill is a challenging task. In many ways Bodycomb's solution to this problem works: shift the focus away from the birds and towards the experience. My Aviary stumbles in execution, but indicates a promising mid-career reorientation for the artist. Assuming she continues in this vein and truly commits to the projects, her upcoming November show at Conduit could be interesting.
Rosalyn Bodycomb: My Aviary will be on view at Conduit Gallery from May 17- June 21, 2014.