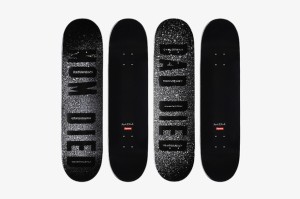 MARK FLOOD UPDATE: A couple of weeks ago, Glasstire reported that Houston artist Mark Flood is funny and, a few weeks earlier, we reported that Mark Flood knows how to promote himself in his bad-boy prankster, poke-fun-at-everyone-including-himself way. In March, we reported that Mark Flood is astonishingly collectible and, a few months previously, we reported that Mark Flood had infiltrated the small screen. Now, it looks like Mark Flood is also soon to be deemed super skater cool.
According to Hypebeast and other hipster guy lifestyle magazines, Supreme will be releasing two limited-edition skateboard decks designed by the artist. On the underside of the decks are the messages "MOM DIED" and "DAD DIED." When explaining his motivation for the collaboration to Purple Fashion Magazine's Annabel Fernandes, non-skater Flood stated simply, "Supreme asked. I have skater friends and acquaintances and they told me to do it."
AF: Why "Mom Died" "Dad Died" specifically?
MF: I'm interested in the relation between heavy emotions and the mask of coolness.
AF:  Is there a message you want to convey in your skateboards?
MF: Fuck the world.
Okay then. The skateboard decks will be available in Supreme stores (in NY, LA and London) and online beginning May 29.