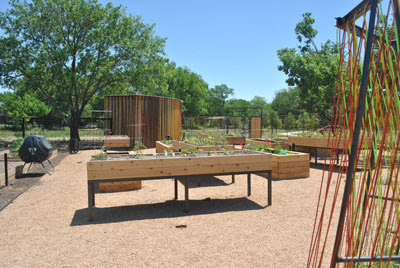 The City of Austin announced today that it will open its first artist-led community garden, the North Austin Community Garden, this weekend as part of its Art in Public Places (AIPP) program.
The project is a product of a two-year collaboration between artists/architects Lucy Begg and Robert Gay of Thoughtbarn, who were commissioned in 2012 to oversee the design and implementation of the community garden at the North Austin Community Recreation Center. The project's aim was to blend artistic innovation with the necessary functionality and sustainability needed to run such a garden in cooperation with the community, with which the artists dialogued throughout the design process.
Together with the neighboring community, Begg and Gay established the Garden Leadership Group which is led by community volunteers to develop a governing structure for the garden as well as bylaws, membership fees and rules. As the garden gains membership, it will expand to fill a 20,000 square foot area of the park.
A short documentary film, called GARDEN, was commissioned by Austin-based creative agency Flow Nonfiction to document the growth of the public space. The film will be screened at the garden's grand opening, this Saturday, May 17.