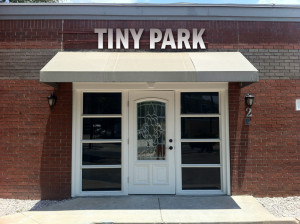 The much-loved Austin gallery Tiny Park will shutter its doors at the end of April due to rising rent costs and insufficient sales, reports Seth Orion Schwaiger of The Austin Chronicle. Says the gallery owners Brian Willey and Thao Votang: "We will be leaving our Navasota Street location. . . at the close of Miguel Aragon's exhibition. The blunt facts. . . the rising rent has gotten too high for our limited personal resources, and the Austin art market is still too small. So we will evolve."
A closure such as Tiny Park's is endemic in Austin where the food, fashion and music scenes thrive, but where performance and visual arts have never been able to gain real financial traction.  "Though the city boasts the economy to support a flourishing art scene," says the Chronicle, "the Austin-based artist who lives solely off of art sales remains a rare and endangered species." The same would go for gallerists, it seems, who often pump their own money into floating a gallery space that's greatly loved by the arts community, but that can't make any sales because the collector-base for art just hasn't risen up yet, or collectors who do live there would prefer to buy work from other markets.
This is a familiar tune. Five years ago, Christina Rees let out a battle cry for support of galleries in Dallas, nabbing the famed local beaucoup collectors for lack of skin in the local game. She also poked young artists and business people to do the same–to buy something, anything, to help the art eco-system thrive. In Austin, a city that has come to define the new youth culture, the market is just not there, or at least not able or willing to sustain the gallery aspect of the city's vibrancy.
Artist Sterling Allen of the lauded Okay Mountain collective, which ran a gallery space in Austin from 2006-13, takes up Rees' banner: "Our collective made money, but our gallery never did. We'd always spend what money the collective made on maintaining and running the space. If people in Austin who could afford it spent $1,000 on a piece of art just once a year, spaces like ours, Tiny Park, and others could stay open."