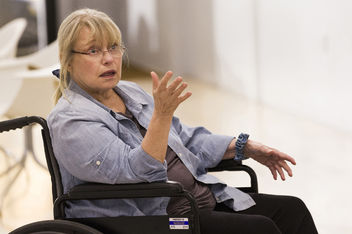 On this week's episode of HBO's "Girls," the actress Louise Lasser makes a guest appearance as a wheelchair-bound artist overseeing the installation of her show at a new gallery in Manhattan. It struck me as so subtle and genuine that I overlooked it at first. I expect nothing less from a show created by Lena Dunham, whose parents are (you know by now) Carroll Dunham and Laurie Simmons, both longstanding workhorses of New York's art scene; "Girls" has seldom played a false note for me about its various themes, including about the art world that Hannah and Marnie and friends come in contact with as part of their New York reality. Dunham often skewers its absurdity and eccentricity, as we'd hope, but from the viewpoint of an affectionate insider. Finally, some quality jokes and pathos about art on TV.
More on that in a minute; back to the Lasser character. Unlike most other TV artists, she is not histrionic, and she does not appear (for the moment) addled by drugs or narcissism. She is, instead, both amused and frustrated to be mounting a show in an untested gallery run by a spoiled, rich young social climber. Lasser's artist seems mostly patient but worn out by having to be the only person in the gallery concerned with any details, and we guess that she's hoping whatever money or PR this young gallerist has promised her will make it worth a potential image setback. She feels obscure because at the moment she is. She and the gallerist are using each other.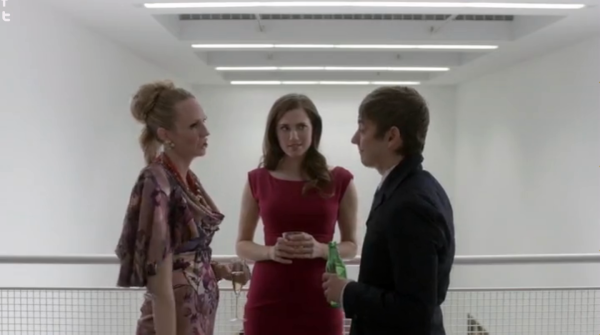 Dunham doesn't bother to spell out these or other various implications of the arrangement, because she never insults her viewers and it's dog-whistle clear to those of us who have worked in galleries and with artists: We get it that this gallerist (or her daddy) either bought all the work in advance or has presold the show to her family's wealthy friends; the artist is likely between galleries as she's either left her old one due to neglect or was dumped long ago; the artist's work is genuinely good (though not great) and hasn't been rediscovered by the current market so she'll take her chances and is grateful to have any attention; she craves feedback she hasn't gotten in years.
That Dunham can grant this character dignity and heft in so little screen time is a product of Dunham's whole life. So many criticize the show for Dunham's perceived privilege; it's a straw man argument few others in popular media are so intensely dogged with. Dunham is not riding her wave to the top on big trust fund, vapid sexuality, or bad behavior. She's been creating entertaining content since she was a teenager. No one forced her to, either, just as no one forced her parents into the art world decades ago.
Artists like her parents who came up in downtown New York in the '70s and '80s were dealing with a kind of poverty most armchair critics have never imagined. It was bohemian in the strictest definition, and while her parents went on to make their living as artists, again, there is not some bottomless well of money at the end of their story. Dunham the Younger will have been well aware of the history of their struggle, and that of their artist friends.
Her parents also seemed to instill in her a serious work ethic, or she inherited it, or both.  Instead of harping on her private-school education, maybe we can enjoy that she, in the welcome trend of an ever-diversifying and non-homogenized tv renaissance, brings some things (many things) to television we've never seen there before, among them a believable art world. She's thus far, over three seasons, shown us several artists, gallerinas and assistants, boozy or eccentric art dealers, gallery openings, a job interview in a gallery, an artist's live/work space and his ongoing "practice" (remember Booth Jonathan? ), and these are often presented as asides or humorous-slash-painfully absurd interludes within her larger themes, which is even better. It's all more sly and subtle.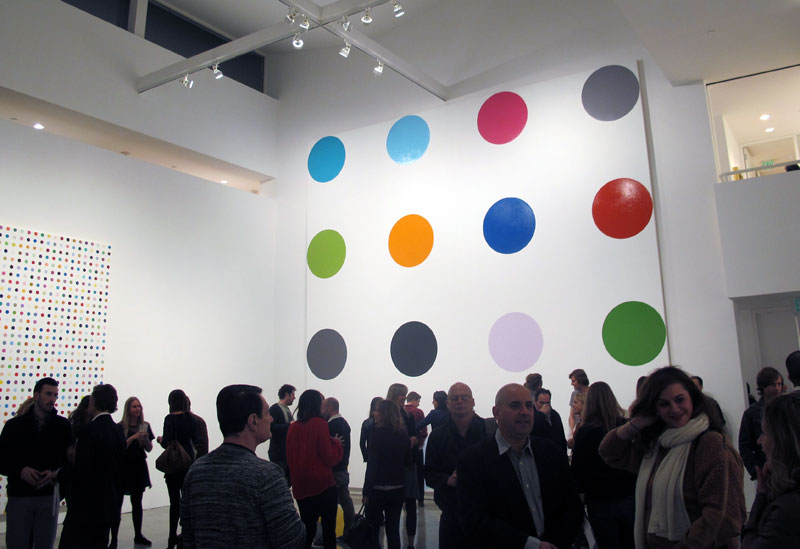 Outside of "Girls", TV shows depicting an art scene are in shaky, semi-subjective territory to begin with, though most of the creators of these scenes would never know it because they don't care enough to do any research, and their viewers don't know any better. To date myself, I call this laziness the "Silk Stalkings" syndrome (a late-night crime drama of the early '90s)–the "gallery" sets are too slick, nightclubby, busy and ultra-flimsy; the art work is undergrad corny (at best); the guest art-world characters are too coy or campy or slimy, and this representation is no better on tv now than it was 20 years ago. We know the internet can provide today's show runners and production designers with some clue as to what a gallery opening actually looks like, at, say, a huge and glamorous and semi-smarmy place (usually what they're going for) like Gagosian LA. They evidently aren't interested.
So when "Girls" gets its art world so right, season after season, it's a novel thrill for those of us who have overlooked insulting transgressions in our other favorite TV shows. (I could write a dissertation on the brief auction-house scene in the first season of "Justified." What a terrible waste of time this would be.)
I'll be watching Louise Lasser in next week's episode (her guest appearance continues) and sighing in relief that Dunham gets it, and gets that it's all more banal, poetic, sad, and funny than most would ever guess, and that an honest depiction of the art world ("an art world?") on fictional television is a rare gift to those of us who care.