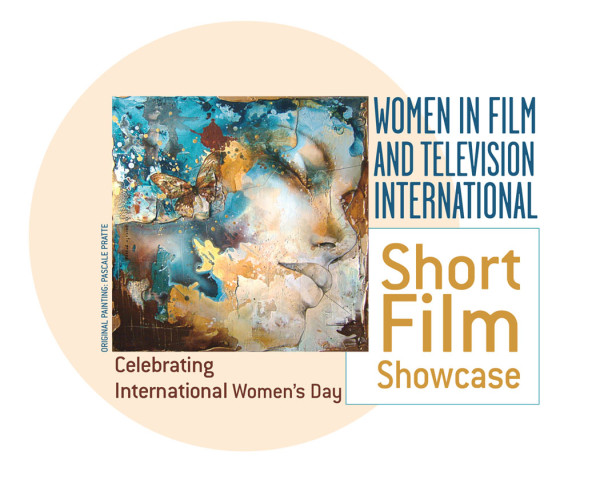 Last week I attended the WIF.D (Women in Film Dallas) special 2014 WIFTI program (Women in Film & Television International Showcase). Whew. This org likes their acronyms. I've been in Dallas for 2.5 years now, and it's the first time that this org has been on my radar.  The program, which featured eight short narrative films by eight female filmmakers from six countries, was terrific.
Before I discuss the individual films, I have to pose a few questions. In 2014, why are we still segregating women's achievements from the general population? Are women's films still not receiving the same amount of attention as men's? Is there still gender discrimination going on? As an experimental video artist, I am not in touch with the nuances of commercial filmmaking—is it still a good ol' white boys club?
The screening was in honor of National Women's Day on March 8. I'm certainly not one to complain about a day that celebrates me and my gender. However, I wonder if relegating women's films to a women's film festival further marginalizes them? Why are the themes, subjects and ideas only relevant to women? It irks me when I'm asked to show my work in a gender-based exhibit or screening. Yet usually I comply, since I figure the more exposure, the better. Am I doing myself a disservice, since folks will ultimately think my work is only about gender? And why does the word gender immediately connote only women?
I do not wish to minimize WIF.D's major accomplishments made over the past thirty years. Check out their website. They produce PSAs for non-profits, provide scholarships and grants to students and emerging filmmakers as well as have a variety of programming and events. I truly want to have a virtual discussion about this. So WIF.D members, and Texas filmmakers, join in the discussion. Carolyn Sortor, John Aasp, Richard Bailey, Mike Morris & Bart Weiss—this means you!
Now—on to the films. There wasn't a particular theme that connected the program, but most of the films had an element of quirkiness or surprise. The Campaigner by U.K. filmmaker Rebecca Brand had the distinction of being the shortest film and the only documentary in the program. The film features an interview with 78 year-old activist Joyce Brand. Her courage and dedication to fighting social injustice was awe-inspiring. In a culture where we denigrate our elders, this film venerates a person who, while not famous, affected major change in the world.
The films The Weather Girl, by Canadian Director Carleen Kyle, and In Safe Hands, by New Zealand Director Jackie Van Beek, both had poignant messages with quirky twists. When two bible-thumping evangelists knock on the door of a former weather reporter, she takes advantage of the situation and ditches them with her Alzheimer-affected, wheelchair bound father. She enjoys a day shopping and getting a makeover at the salon. The poignant moment comes at the end when she returns home. Her father has a lucid moment, takes her hand and there is a rare emotional connection.
In In Safe Hands, a teenage girl picks up a box at a hospital. The box looks like it holds cremated remains. While traveling on a bus, the girl looks inside and discovers a human heart packed in plastic. She delivers the heart in time for her grandmother's funeral. In addition to the surprise appearance of a heart, the shocking bombshell comes during the credits, when we learn that during 1950-2000, a New Zealand hospital collected hundreds of hearts from dead children without parental consent. There was a collective gasp in the audience while the credits rolled.
I have bias towards dark irony, so it is no surprise that I enjoyed the Gaelic film 4 Bhanrion (4 Queens) by Director Victoria Colona. Four daughters play a game of poker with their elderly mother. She appears to die at the poker table. The daughters play another hand to determine who will inherit the estate. The cinematography with the muted color palette and smoky room reminded me of film noir. The acting was superb. The Gaelic language added additional poetic cadence, contrasting the film's plot.
The program also included two films by Dallas Filmmakers/Directors Iris Lopez and Jing Yang. Lopez's film Cielo Lindo tells the story of two homeless sisters struggling to survived on the Dallas streets. There are lovely moments during the film, such as when the girls imagine eating a bag full of hamburgers. Ultimately the film left me wanting. I didn't feel any resolution. Perhaps that was the point.
Yang's film My Super Valentine is about a young girl who stands up to the class bully. I appreciated the subject of a young female hero who takes on the big bad boy bully and saves her fellow classmate. Yet for my tastes, the film was a bit too sentimental.
My two favorite films in the line-up were Friday Tigers by New Zealand Director Aidee Walker and Je Veille Sur Vous (I'm Watching Over You) by French Director Elodie Fiabane. Friday Tigers is a story about the fierce love a mother has for her child and the all too common story of domestic violence. What made this a real gem was the creative use of animated drawing and imaginative dress-up play by the mother/daughter. Each day of the week, the duo dons a different animal costume, from bumble bees to wolves to tigers. While the happy-ending might not be realistic for most victims of domestic violence, the entire audience was rooting for her.
Fiabane's portrait of an older male widower is at first deceiving. We seem him paint solitarily in his studio, while frequently gazing at the photograph of his deceased wife. He begins to spy on his neighbor's children as they play. Immediately we peg him as a creepy voyeur. The end completely caught me (and the rest of the audience) off guard. The film has been resting heavily on my heart for the past week.
In closing, I'd like to return to an initial question. I was thrilled that the theater was full, although male attendees were in the minority. Would this program be possible in a mainstream festival? I hope readers will voice their opinion about the genderized art issue. (Also, it did not escape my notice that the acronym WIF.D is closely aligned to WIFE.)